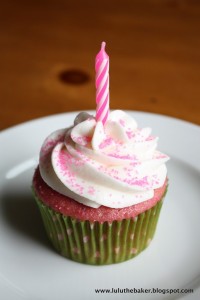 Yesterday was my birthday. Happy Birthday to Me! Probably my all-time #1 favorite birthday cake is strawberry cake. It is pink, yummy, and fabulous. And like lots of other flavors of cake, it is hard to replicate from scratch. I've tried a few different homemade strawberry cake recipes, and most of them are a little dry, a little dense, or a little heavy. But I think I've finally found a winner with this yummy recipe from Smitten Kitchen via Recipe Girl! The strawberry puree mixed into the batter gives it a sweet and tangy strawberry flavor, and just a few drops of red food coloring make it a lovely shade of pink. Best of all, these cupcakes bake up light, springy, and moist, just like good cupcakes should.
You can find the recipe for the original 3-layer Smitten Kitchen Pink Lady Cake HERE, and the cupcake version on Recipe Girl HERE.
Tune in Wednesday for something fun involving *prizes*!!