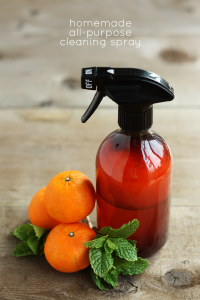 When I decided to go with a "Fresh & Clean" theme for my January posts, I immediately thought it would be fun to include a post about making DIY all-purpose cleaning spray. So I did a little research, but just didn't find a recipe I loved or that seemed to get consistently good results. Luckily, my friend Annie came through with a homemade counter spray recipe she's been using and loving for years. And I've really fallen it love with over the past week too! It leaves my counters clean and shiny, and the bathroom mirrors are streak-free. And it doesn't have any harsh chemicals, and is completely food-safe. Don't tell anyone, but it actually makes me want to clean my kitchen!
Annie's All-Purpose Cleaning Spray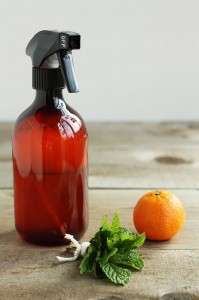 3/4 cup white vinegar
3/4 cup water
1/2 teaspoon clear, mild dish soap
10 drops sweet orange essential oil
10 drops peppermint essential oil
Combine all ingredients in a spray bottle, and shake to combine. Shake bottle gently before each use.
To use, spray cleaner on desired surface and wipe with a clean, dry cloth. Buff the surface gently until it is shiny, clean, and streak-free.