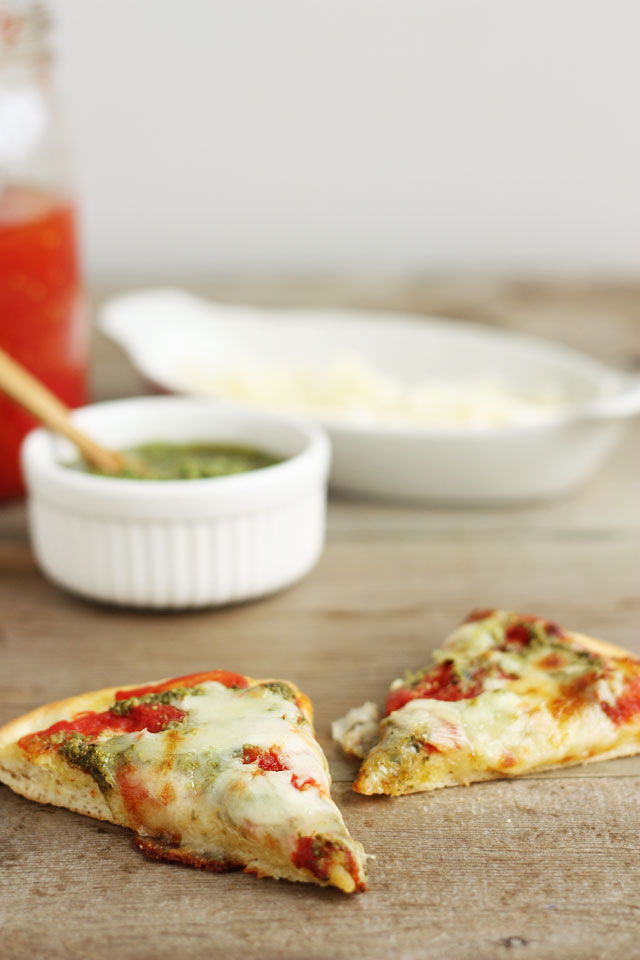 I think it's probably safe to say that Margherita pizza is one of the most popular pizzas in the world. I can't think of a legitimate pizza parlor (delivery pizza aside) that doesn't have it on the menu. Kids like it, grown-ups like it, picky eaters like it; it's just a universally beloved pizza! There are a couple of variations I've seen in my pizza-eating experiences: all Margherita pizzas use fresh basil, but some use fresh tomatoes while some use a tomato sauce, and I've seen both fresh and aged mozzarella used. I wanted to create a recipe that would work all year, even in the deep midwinter, when (good) fresh tomatoes and basil are a little hard to come by. I used all of the same flavors as a traditional Margherita pizza, but made them winter-appropriate. Basil pesto, canned tomatoes, and shredded mozzarella work beautifully together in this simple, all-seasons pizza.
Midwinter Margherita Pizza
I used canned whole tomatoes that I canned myself last Fall, and they're delicious! I just drained them and gently crushed them with a spoon, then "sprinkled" them over the crust. But I realize that most people probably don't have a stash of tomatoes they canned themselves! I put the closest alternative in the recipe below.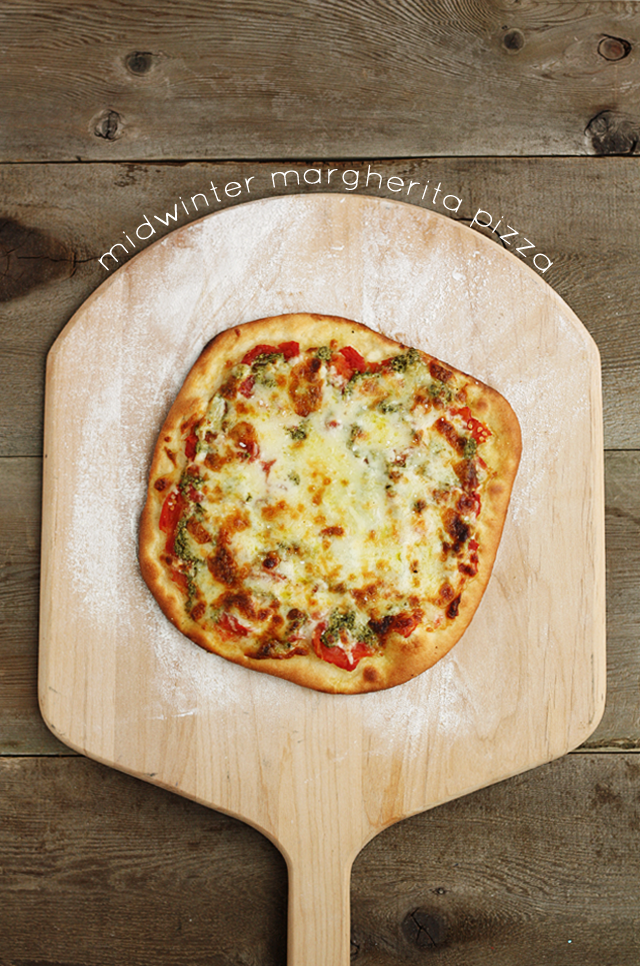 for the crust:
1 cup warm water
1 Tablespoon yeast
1 Tablespoon sugar
2 Tablespoons oil
1 teaspoon salt
2 1/2 cups flour
for the toppings:
1 14-oz can diced tomatoes, drained
1 container pre-made basil pesto
4-6 cups shredded mozzarella
To make the pizza dough, combine warm water, yeast, and sugar in a small glass bowl or measuring cup. Let stand in a warm location for 5 minutes, until the yeast has started to bubble and grow. In the bowl of a stand mixer, combine yeast mixture, oil, salt, and flour. Mix until dough begins to ball up. Transfer dough to a lightly-oiled bowl, cover with plastic wrap, and let dough rise in a warm spot until doubled in size, about 30 minutes. Scoop dough out and place on a well-floured work surface. Knead until not sticky (you shouldn't have to add too much more flour), then divide dough into 2 or 3 equal portions. For me, 3 works best. If I divide the dough into 2 pieces, the pizzas end up too big for me to slide into the oven. Using 1 ball of dough at a time, roll out into a large, thin circle. Place dough on a baking sheet or pizza peel, and set aside.
Pour the drained diced tomatoes into a food processor and pulse very lightly, just to chop the chunks into smaller chunks. Spread pesto lightly over the crust like you would regular pizza sauce (although it is really strongly flavored, so go easy), then sprinkle on tomatoes. Top with mozzarella cheese. Bake in a preheated 500°F oven for 5-10 minutes. Remove and allow to cool slightly before slicing and serving. Serves 4