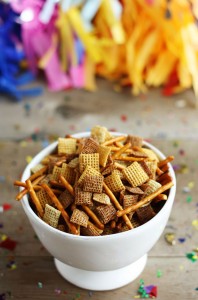 I think it's no secret that I have a pretty major sweet tooth. But I'm also blessed/cursed with a constant hankering for savory, salty snacks–the savorier and saltier the better, in my book. I'm also a sucker for Worcestershire Sauce, so as you can imagine, I think homemade Chex Mix is downright irresistible! We decided to make it for our friends, neighbors, and teachers this Holiday season because it is so delicious, and, of equal import, so ridiculously easy to make. I think we ended up making seven or eight batches of it, and I managed to eat only
an entire batch myself
my fair share.
the perfect snack for game day or New Year's Eve, and so much better than the store-bought kind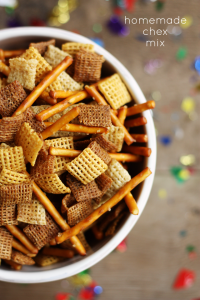 1/2 cup butter
2 Tablespoons Worcestershire Sauce
1 1/4 teaspoons seasoned salt
1/4 teaspoon garlic powder
2 1/3 cups Corn Chex
2 1/3 cups Rice Chex
2 1/3 cups Wheat Chex
2 cups mini pretzels or small pretzel sticks
Preheat the oven to 250°F. In a small saucepan, melt butter. Whisk in Worcestershire Sauce, seasoned salt, and garlic powder; set aside. On a large, rimmed baking sheet or in a large, high-sided roasting pan, combine all 3 types of Chex and pretzels. Pour sauce over cereal, and toss until all pieces are evenly coated. Bake 1 hour, stirring gently every 15 minutes or so. Remove from oven, and allow to cool completely before devouring eating politely. Makes 9 cups of Chex Mix.