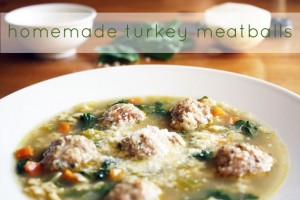 Aren't meatballs the greatest invention? You can pack them in a sandwich, throw them on top of pasta, stick them on toothpicks, roll them in a wrap, dunk them in soup, or my family's favorite–pick them up straight off the cookie sheet and pop them right in your mouth. I think homemade meatballs are divine, especially when they are savory and flavorful instead of bland, and tender instead of squishy. We polished these perfect meatball specimens off very quickly, and I can't wait to start bringing them to the slew of holiday parties on the calendar in the next few months!
BTW and FYI, the meatballs pictured here are nestled in a bowl of Ina Garten's Italian Wedding Soup, which is delicious. You should make it.
Homemade Turkey Meatballs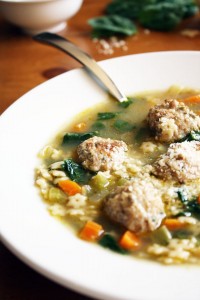 1 1/4 pounds ground turkey (NOT ground turkey breast!)
2/3 cup fresh white bread crumbs
4 teaspoons minced garlic
3 teaspoons dried parsley
2 teaspoons ground paprika
1 1/2 teaspoons whole fennel seeds
1 teaspoon dried italian seasoning
a pinch of crushed red pepper
1/4 cup freshly grated Pecorino Romano cheese
1/4 cup freshly grated Parmesan cheese
3 Tablespoons milk
1 large egg
1 1/2 teaspoons Kosher salt
freshly ground black pepper
Preheat the oven to 350°F. Line a large baking sheet with parchment paper. In a large bowl, combine all ingredients. Using your hands, gently but thoroughly mix everything, being careful not to overwork it. Using a small scoop or Tablespoon, form mixture into balls and space evenly on prepared baking sheet. Bake for 30 minutes until browned and cooked through. Makes around 4 dozen meatballs.