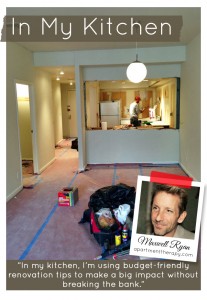 While the In My Kitchen series is usually straight from the featured blogger's mouth, today's will be a little bit different–in a very good way! A few weeks ago, HP gave me the opportunity to interview Maxwell Ryan, CEO and founder of Apartment Therapy! He's in the process of renovating the NYC apartment he and his daughter just moved into, and graciously shared lots of budget-friendly kitchen renovation tips with me. Here are a few of Maxwell's ideas for big-impact changes you can make in your kitchen that don't cost a fortune…
Tip #1: Paint your backsplash.
If you don't have a tile backsplash, pick a nice, bright color and paint the wall behind your sink and under your cabinets. Any high-gloss interior paint will work, and because you don't need much paint, you can even splurge on high-end luxury paints like Eurolux without spending much.
Tip #2: Replace your countertops and, while you're at it, upgrade your sink.
While installing brand new countertops can be quite expensive, it doesn't have to be. Maxwell is a fan of low-grade White Carrara marble, which has a posh, classical look and a very affordable price tag. It's actually one of the least expensive natural countertop materials available. And while you've got your countertops out, it's the perfect time to replace that outdated kitchen sink.
Tip #3: Install good overhead lighting.
While I was furiously scribbling notes during my interview with Maxwell, I only managed to write down one quote word for word. Luckily, it's a good one: "Most people don't realize that their rooms are severely underlit." There's a laundry list of things I don't like about my kitchen, but the thing that bothers me the most is the terrible lighting; sometimes I literally feel like I can't see what I'm doing. According to Maxwell, good overhead lighting is essential for cooking. His favorite trick for increasing the overhead lighting in any room is to install a system of track lights attached to a dimmer switch. With the track lighting, you can aim the spots wherever you need a little extra light, and the dimmer switch allows you to turn the lights up for cooking, and down for eating and entertaining.
Tip #4: Install under-cabinet lights.
Cabinets cast shadows over whatever appliances or bits of kitchen decor are beneath them. Under-cabinet lights are inexpensive and easy to install. It's a simple change that makes a huge impact.
Tip #5: Go wireless.
We live in an increasingly digital world, and the kitchen is no exception. During our interview, I mentioned to Maxwell that I cook from my own blog a lot. If I'm making one of my family's favorite recipes that I've blogged about, I usually look it up here on Lulu the Baker. The problem is, my smart phone screen is pretty small, and if I keep bringing my laptop into the kitchen while I cook, I'm just asking for it to get chicken broth dribbled across the keyboard or flour stuck in its crevices. Maxwell recommends the HP Envy x2, a notebook/tablet hybrid that gives users the power of a touchscreen notebook and the flexibility and freedom of a detachable tablet.
Huge thanks to Maxwell Ryan for letting me chew his ear off for 15 minutes, and for being so willing to share his vast knowledge and experience with me and with you! And thanks to HP for setting it all up.
Maxwell Ryan believes that creating a beautiful, organized, and healthy home doesn't require large amounts of money or space, but rather inspiration, connection, and motivation. He is the CEO and founder of Apartment Therapy, a website focused on connecting people to the resources they need make their homes calm, healthy, and beautiful. He is the author of three best-selling design books and has been published in The New York Times, The New York Observer, The Wall Street Journal, and House Beautiful. He lives in New York City with his daughter, Ursula.