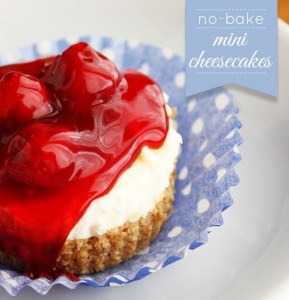 Last month, I volunteered to make refreshments for 50+ people at a little church event for the youth and their parents. I think I must have originally had it in mind to make those little no-bake cheesecakes with the vanilla wafers in the bottom. They usually call for Cool-Whip or Jell-O cheesecake mix and are crazy easy to make, but for some reason I decided to forget that plan and make the mini cheesecakes completely from scratch. Over 100 of them. Because things made from scratch are better, yes? As luck would have it, my plan change worked out quite nicely–these little no-bake mini cheesecakes made from scratch are absolutely delightful. I think cheesecake has a tendency to be super sweet, super rich, and super heavy, often to the point where I can't finish a serving. It's usually the kind of dessert that really fills you up, which isn't always a great idea if you just ate a big, delicious meal. These lovely little beauties are light, almost fluffy, with a tangy, refreshing sweetness. They aren't cloyingly sweet or heavy or dense–a good thing, because then you can sample several different toppings, which is really just the nice way of saying you can go ahead and stuff your face with them!
adapted from a whole bunch of different sources, but mostly Bakers Royale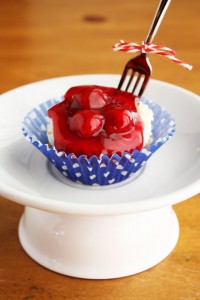 for the crust:
3 cups graham cracker crumbs (24 graham crackers ground up in your food processor will give you this much)
1/2 cup brown sugar
14 T butter, melted

for the filling:
1/4 cup water
1 Tablespoon unflavored gelatin powder
2 1/4 cups whipping cream, whipped to stiff peaks
2 bricks cream cheese
2 T lemon juice
3/4 cup sour cream
3/4 cup sugar
1 teaspoon vanilla
1 teaspoon kosher salt
for topping:
1 small can cherry pie filling
caramel sauce
chocolate sauce
oreo crumbs
To make the crust, combine graham crackers crumbs, brown sugar, and melted butter in a large bowl. Line 30 cupcake tins with paper liners, and divide crust mixture evenly among them. You can use your fingers to press the crumbs firmly into the bottom of each, but a small measuring cup or drinking cup pressed firmly into each little well will do the job a lot faster. Set prepared crusts aside.
To make the filling, begin by pouring 1/4 cup cold water into a small saucepan. Sprinkle gelatin over water, and allow to sit for 5 minutes. Gently whisk the mixture and cook over medium heat until the gelatin dissolves completely. Set aside to cool. In a large bowl, beat whipping cream until stiff peaks form; set aside. In the bowl of a stand mixer, beat cream cheese, lemon juice, sour cream, sugar, vanilla, and salt until completely smooth. Add a small scoop of the cream cheese mixture to the gelatin and whisk until combined. Fold gelatin mixture into remaining cream cheese mixture. Fold in whipped cream until completely smooth. Divide filling among prepared crusts, smoothing out the tops. Refrigerate overnight. Add toppings just before serving, or set toppings out and allow guests to choose their own! Makes about 2 1/2 dozen mini cheesecakes.