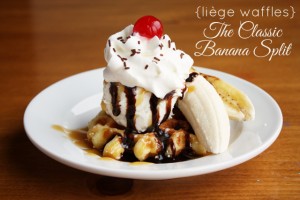 Brunch is one of my favorite things. Maybe it's because any and every delicious food is welcome at brunch. Quiches, salads, pastries, dainty sandwiches, grilled kabobs, fruits, veggies, frothy beverages, eggs benedict, bacon and sausage, yogurt parfaits…Truly, anything goes at brunch, even dessert! These little liege waffle sundaes are possibly the best way ever to cap off a magnificent brunch feast. The waffles by themselves are insanely delicious–crispy and buttery and oh-so-sweet. And topped with ice cream and a drizzle of hot fudge sauce, they are over-the-moon amazing! I have a feeling that if you had a liege waffle ice cream sundae bar at your next brunch, you'd be crowned the reigning queen of brunch-land!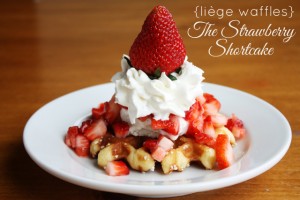 Liege Waffle Ice Cream Sundaes
waffle recipe from WhippedI had fun coming up with lots of tasty liege waffle ice cream sundae flavor combinations. Scroll down to see a list of my favorites after the recipe!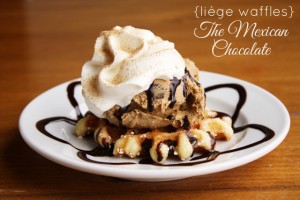 for the waffles:
1/3 cup warm water
1 1/2 Tablespoons sugar
2 1/4 teaspoons (1 envelope) yeast
1/4 teaspoon salt
2 cups flour
3 eggs
2 sticks (1 cup) butter, melted
1 teaspoon vanilla
1 cup Belgian pearl sugar*
toppings:
ice cream
sliced bananas
chopped, sugared strawberries
crushed pineapple or pineapple tidbits
caramel sauce
hot fudge sauce
toasted coconut
sweetened whipped cream
cinnamon sugar
maraschino cherries
sprinkles
chopped pecans
toasted almonds
To make the waffles, combine warm water, sugar, and yeast in a liquid measuring cup. My fool-proof, never-fail method of proofing yeast is to run my tap water as hot as it will go (it gets really hot), fill a bowl with hot water, and set the measuring cup full of yeasty goo in the bowl filled with hot water. I used to be nervous about making things with yeast, but since I started using this method, I've had success every single time. Ok, now let that whole set-up sit for 5-10 minutes until the yeast is nice and bubbly and has doubled in volume. Meanwhile, combine salt and flour in the bowl of a stand mixer fitted with the paddle attachment. Add the yeast mixture to the flour mixture and beat on medium. Continue beating while adding eggs one at a time, melted butter, and vanilla. When everything is mixed in, set the sticky dough aside, covered with plastic wrap, to rise until doubled in volume, about 1 hour. After the dough has risen, fold in pearl sugar and allow to sit while your waffle iron preheats. When the waffle iron is hot, use a cookie scoop to put one scoop of batter in the center of your waffles iron. I have the big kind of waffle iron that makes 4 square waffles at the same time, do I did one scoop in each square. Close the lid and cook the waffle(s) to a deep golden color, between 3 and 5 minutes. Use a fork to gently lift waffles out of the waffle iron, and allow to cool on a wire rack for about 5 minutes before eating or topping.
The waffles are at their very best when they're fresh, or at least served within a few hours of being made, but if you want to serve lots of people and have to make them early, they can be reheated on a cookie sheet for 10 minutes in a 350° oven.
*If you can't find pearl sugar, supposedly you can put a bunch of sugar cubes in a ziplock bag, coarsely crush them with a hammer or mallet, and use 1 cup of the pea-sized chunks. I haven't tried this method. Pearl sugar is available on Amazon, and it's Prime, so you don't have to pay for shipping. I actually forgot to order my Belgian pearl sugar, so I used Swedish pearl sugar from Ikea (the sugar chunks are smaller), and the waffles were delicious. All's well that ends well!