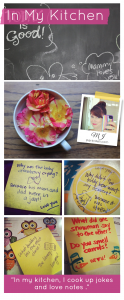 Our kitchen is the personality of the house. When we renovated two years ago, we painted an entire wall with magnetic chalkboard paint, and it's been like finding a long-lost friend. Our kitchen is always overflowing with children's artwork, new projects, garden finds, and lots of little helping hands. It's a naturally expressive space, and I love posting notes, schedules, greetings, and jokes as part of our environment. And when my loves are away from me, the kitchen becomes my space to prepare not only the food that they'll enjoy but also a little piece of home through their lunchbox notes.
– – – – –
MJ is the publisher of the blog Pars Caeli (a piece of heaven), her webhome where she invites lively participation and shares in the joys of a thoughtful life. Pars Caeli is a cozy space with posts on happiness and heartbreak and parenting and the wonders of childhood, as well as design, fashion, and DIY. MJ is a graphic designer and social media junkie who juggles the big personalities of her 8-, 6-, and 3-year old children while daydreaming of the next date night with her best friend. If you're in need of a corny joke, follow MJ's feed of #lunchboxnotes from ParsCaeli on Instagram.
– – – – –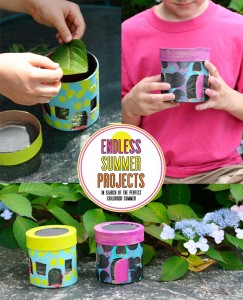 You can find this week's Endless Summer Projects post on Classic Play, where Jennifer shares a fun tutorial for making these cute bug habitats!
Be sure to share your own Endless Summer Projects on Instagram and Twitter using the hashtag #endlesssummerprojects! And if you missed the previous Endless Summer Projects posts, you can find all of the links below…