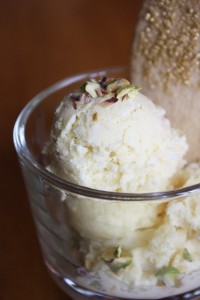 Our Dinner Club theme for the month of April was Indian. I'm not at all familiar with Indian food. My mom loves it, but I come from a family of slightly picky eaters, so my mom never made Indian food for us at home, and when my parents went out for Indian food, it was always just the two of them. So when I was assigned to bring the dessert, I panicked a little, especially after googling "Indian desserts" and getting lots of results for rice puddings and sweets made with lentils (not that there's anything wrong with either of those options). Instead, I turned to an old family recipe: Curry Ice Cream. I know, I know. Curry in ice cream??? But trust me, it is delicious. If you look at the list of ingredients on a bottle of curry powder from the grocery store, all you'll find is spices, and not even savory spices that would make ice cream taste weird. Nutmeg? Check. Cloves? Check. Ginger? Check. Black Pepper? Check. Throw in crushed pineapple and shredded coconut, and you've got a delicious, eastern-inspired frozen treat!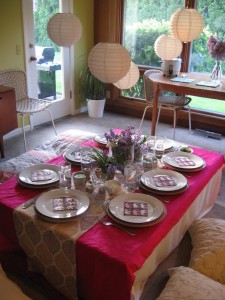 The recipe was created by my brother way back in our college days. His friends threw a "Curry Fest" every year, and you had to bring a curry dish to donate to the potluck table. One year, inspired by the garlic ice cream he'd heard about at the Gilroy Garlic Festival in California, he made curry ice cream. And the rest is history!
To accompany the ice cream, I made some shortbread cookies spiked with cardamom and cinnamon, and topped them with a little gold sugar. The cookies and ice cream were the perfect end to a delicious, Indian meal! Here's what else we enjoyed that night:
Naan, and lots of it
Tzatziki
Mint Chutney
Spinach Paneer
Carrot Salad with Lime and Cilantro
Jasmine Rice
Lamb and Potato Curry
Chicken Braised in Yogurt
Tropical Curry Ice Cream and Indian-Spiced Shortbread
*****
Indian-Spiced Shortbread
adapted from Ina Garten's recipe for Shortbread Cookies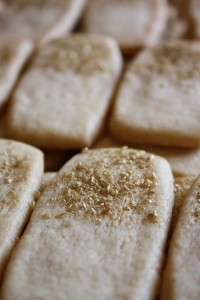 3 sticks unsalted butter, at room temperature
1 cup granulated sugar
1 teaspoon vanilla
3 1/2 cups flour
3/4 teaspoon salt
1/8 teaspoon cardamom
1/2 teaspoon cinnamon
gold sugar from sprinkling, available at Fancy Flours
Preheat the oven to 350 degrees. In the bowl of an electric mixer fitted with a paddle attachment, mix the butter and granulated sugar until just combined. Add vanilla. In a separate bowl, sift together flour, salt, cardamom, and cinnamon, then add to butter mixture. Mix on low just until dough comes together. Dump dough onto a lightly floured surface and shape into a flat disk. Wrap in plastic and chill 30 minutes. Roll dough to a thickness of 1/2 inch and cut into individual cookies. I rolled my dough into a big rectangle, then used a pizza wheel to cut 1×3-inch rectangles. You can alternately use a cookie cutter of any shape you like. Place cookies on a ungreased baking sheet, about 2 inches apart. Sprinkle with gold sugar, and bake for 18-20 minutes, until the edges just begin to turn golden. Remove from oven and cool before serving.
Tropical Curry Ice Cream
from Chaz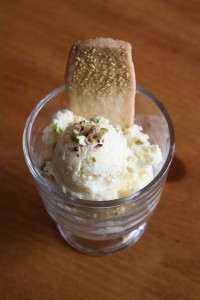 2 cups half and half
1 can sweetened condensed milk
1 cup heavy cream
1 1/2 teaspoons vanilla
1 teaspoon curry powder
1 cup shredded, sweetened coconut
1 8-oz can crushed pineapple, well drained
1/2 cup roasted, salted, pistachios, shelled and coarsely chopped
Mix the first five ingredients together in a large bowl or pitcher until well combined. Refrigerate until thoroughly chilled. Pour mixture into the bowl of an ice cream freezer and freeze according to the manufacturer's instructions. When ice cream is done, transfer it to an air-tight, freezer safe container. Gently and quickly fold in coconut and pineapple, cover, and freeze until firm. Serve topped with chopped pistachios. Makes a little over 1 quart.