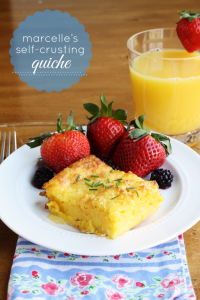 This might come as a shock to you, but not everyone in the world loves quiche. Crazy, right?! It can't possibly have anything to do with the flavor, which usually has notes of salty cheese, smoky bacon or ham, savory herbs, and other delicious things. So I've concluded that it must be the texture. Not everyone is a fan of custard, apparently. Luckily for those non-quiche-eaters, my friend Marcelle is here to save the day with her hearty self-crusting quiche. Trust me, it's amazing! Most quiches have lots of eggs and lots of milk or cream or half-and-half, but this tasty quiche has lots of eggs and lots of cheese–that's it! It's basically baked scrambled eggs loaded with at least 2 kinds of cheese, and flour and butter to give it a nice, thin, bubbly crust. In the words of Marcelle's husband, Dave, "I don't like quiche, but I like this quiche." It's the quiche for custard-haters.
from my dear friend, Marcelle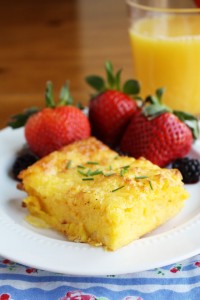 4 Tablespoons butter
5 eggs
1/4 cup flour
1 teaspoon baking powder
1 cup cottage cheese
2 cups shredded cheddar cheese (or any kind you like)
optional ingredients: a 4-oz can diced green chilies, herbs, diced ham or bacon, crumbled sausage
Place the butter in an 8″ square baking dish, put it in the oven, and heat the oven to 400°F. While the oven is preheating and the butter is melting, whisk eggs in a large bowl. Add flour and baking powder, and whisk until it's as smooth as you can get it. Fold in cheeses and any optional ingredients you wish to add. When the butter is completely melted, pour the egg mixture over the melted butter in the pan, and bake for 30 minutes. Allow to cool for about 5 minutes before cutting and serving.