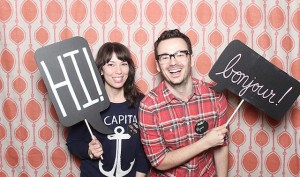 One of my favorite projects from this year has been the faux chalkboard signs I made for the photobooth at the Hello Social in January! They were fun and easy to make and looked great at the party. And best of all, people had fun taking pictures with them! You should make some for your next bash–here's how…
black foam core with a black core (available at Michael's)
pencil
exacto knife
wood dowels (I like the precut ones from the craft store)
hot glue gun
hot glue sticks
1. Lay the foam core on a flat surface, and sketch out large speech bubbles using the pencil. I fit 2-3 signs on each piece of foam core.
2. Put the cutting mat under the foam core, and use the exacto knife to carefully cut out the speech bubbles.
3. Use the pencil to sketch a word or phrase on each sign, then go over it with a chalk marker. My white chalk marker did a bang-up job on the first try, but all of the other colors, which were a different brand, took several layers.
4. When the marker is dry, flip your signs over and hot glue a dowel to the back of each. I made sure 3-4 inches of dowel was firmly glued to the sign, and they were plenty sturdy.
5. Use at your next party!