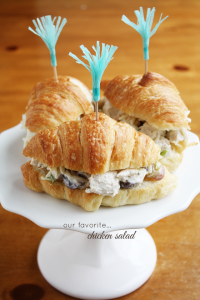 Chicken salad is one of my favorite things to eat in the whole, wide world. Whenever I'm having someone over for lunch, I automatically think, "Hey! I know what to serve–chicken salad!" In fact, if you come over to my house for lunch and I don't serve chicken salad, it's only because last time you came over, we ate chicken salad and I'm trying to diversify.
Chicken salad is one of those things you'd think you could easily throw together without a recipe–a little of this, a dash of that–but this recipe is so good, you'll never want to wing it again! It comes from my friend Connie, who gets asked to make her famous chicken salad for every function she gets invited to. I shared it with my mom, who made it for a luncheon two weekends ago, and everyone in attendance was clamoring for the recipe. It is such a crowd-pleaser!
You can find the full recipe on my latest post for The Font Feast on Ciera Design.