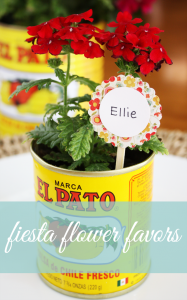 I suppose I should apologize to April for completely and totally jumping the Brunch Month ship during the home stretch, but I've been dying to share this super easy Cinco de Mayo project with you, and I made an executive decision to start May a little early. As it is, we only have a little over a week to cram in as much riotous color and flavorful food as we can before Cinco de Mayo is gone for another year. So let's start this party a little early!
I've been seeing these little El Pato Salsa cans all over lately, as planters for cool green succulents and as vases for big, gorgeous bouquets, and I thought they'd make the sweetest vintage fiesta flower favors. I love the cute, old-fashioned illustration of onion, tomato, and pepper on the front of the can and the sunny, happy colors. Don't they just make you smile?!
Materials & Tools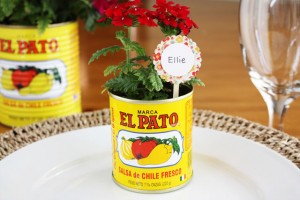 a small can of El Pato Salsa for each guest (They have yellow and green cans at Walmart, and your local mercado probably has the cute red ones too.)
can opener
container to put sauce in (if you wish to keep it)
small, colorful flowers
potting soil
tags on which to write guests' names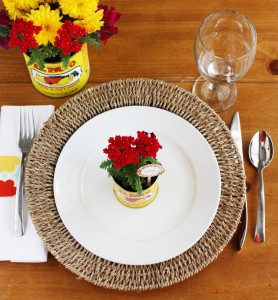 1. Open all salsa cans, empty them, and wash them well with soap and water. El Pato sauces are way too spicy for me (although they smell delicious!), but I put them in a big container with a tight-fitting lid to give to my spicy-food-loving brother-in-law.
2. Plant a small cluster of happy flowers in each little can, or a whole lot of happy flowers in one of the larger cans. Use potting soil as needed.
3. If using these little favors as place cards, write each guest's name on a small tag, add the tag to the can, and set it on their plate.