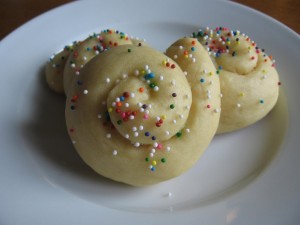 When I was little, the things my siblings and I were and were not allowed to watch on TV were pretty funny. For example, we were NOT allowed to watch MTV, Beverly Hills 90210, the Simpsons, Married with Children, or the Golden Girls. But I distinctly remember watching every episode of Sisters, a prime-time drama not at all geared towards kids! We watched lots of old musicals and movies too, including The Glass Bottom Boat starring Doris Day and Dom DeLuise. Mr. DeLuise did a book signing at the mall when his cookbook came out back in the 80's. My little sister was in kindergarten and got to go with my mom to get the cookbook signed. I was SOOOOO jealous! Ah, youth! Anyway, this recipe is from that very cookbook, and my mom has been making them for over 20 years now! These delicious cookies are just barely sweet, with a hint of citrus flavor, kind of like orange bicuits. They'd probably be good with tea, and are definitely tasty with a big glass of milk. They are so good right after they cool, but not even close to as good the next day, so eat them all right away!
Orange Juice Cookies
adapted from Eat This…It'll Make You Feel Better by Dom DeLuise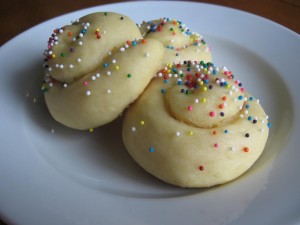 Cookies:
1/3 cup sugar
1 1/2 sticks margarine or butter
3 eggs
1 teaspoon vanilla
1/2 cup orange juice
3 cups flour
3 teaspoons baking powder
1/2 teaspoon salt
Blend first 5 ingredients in a blender and pour into a bowl. Add the flour, baking powder, and salt and knead thoroughly. The batter must not be sticky; you might need to add quite a bit of extra flour. Divide dough into 24 balls. Roll each ball into a long stick. According to the cookbook, you can bake them like this, but my mom always ties hers in knots, and I rolled mine like a snail shell. Whatever floats your boat. Preheat oven to 350 degrees. Place cookies on 2 ungreased cookie sheets and let sit at room temperature for 10 minutes. Bake for 15-17 minutes until very lightly golden. While cookies are baking, prepare the icing.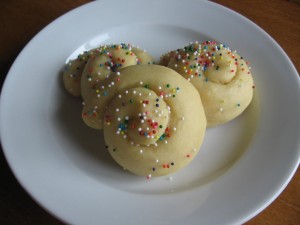 Icing:
1/2 lb powdered sugar
1/2 cup orange juice
1/2 teaspoon vanilla
Whisk ingredients together in a small bowl until syrupy. When cookies are done, dip the top of each hot cookie into the icing. Set on a cooling rack to dryl. When the first coat of icing is dry, dip them again, and immediately decorate with colored sprinkles. Allow to cool before eating.