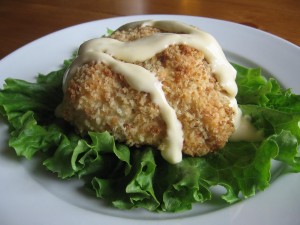 I bought the ingredients for these a few weeks ago, but it was the meal that kept getting dropped when unplanned things popped up. So I was really excited to finally get to make them a few days ago, mostly because that meant I would also get to eat them, and they are sooooooooo good!
Herb-Crusted Chicken Dumplings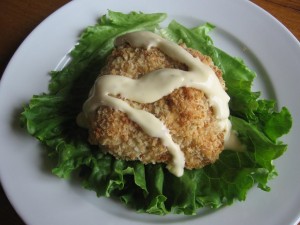 3 cups chopped, cooked chicken (I sauteed 9 frozen chicken tenders, which was exactly perfect)
1 8-oz container onion and chive cream cheese
1/2 cup slivered almonds
1 stalk celery, diced
1/4 cup chopped onion, lightly sauteed
1 tube crescent roll dough (they have them in one continuous sheet now, no perforations!)
1 cup herb-seasoned stuffing (I used Pepperidge Farms)
4 Tablespoons butter, melted
Preheat oven to 375 degrees. In a medium bowl, combine chicken, cream cheese, almonds, celery, and onion. Roll crescent dough out onto a cookie sheet and cut into 6 squares, 3 across and 2 down. Divide chicken mixture among dough squares. It might look like there is no way the dough can handle that much chicken, but it all turns out OK. 🙂 Gently pull the four corners of each dough square up to the middle, covering the chicken; pinch shut, and pinch side seams shut as well. Put the melted butter and the stuffing in 2 shallow bowls. Working with the dumplings one at a time, dip the top in butter, then stuffing. Repeat with the bottom of the dumpling and the four sides. I did the top, then the bottom, then all four sides at the same time and it worked really well. Press coating gently to make sure it is well-stuck. Place coated dumplings back on cookie sheet, put in oven, and bake for 20 minutes. While dumplings are baking, prepare sour cream sauce.
Sour Cream Sauce:
1 small can Cream of Chicken Soup
1 cup sour cream
1/4 cup milk
pinch of pepper, dried parsley, and garlic powder
splash of lemon juice
Combine all ingredients in a small saucepan and heat, covered, on medium-low until hot. Serve hot sauce over baked dumplings.