**The March 2009 challenge is hosted by Mary of Beans and Caviar, Melinda of Melbourne Larder and Enza of Io Da Grande. They have chosen Lasagne of Emilia-Romagna from The Splendid Table by Lynne Rossetto Kasper as the challenge.**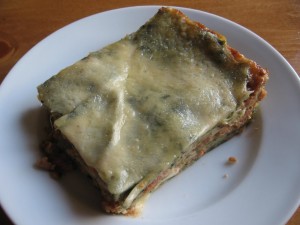 I was really excited to find out that this month's Daring Bakers Challenge was savory and entirely new for me: homemade lasagna–completely from scratch! I decided to make the ragu a day early, and it was really hard for me to put it in the fridge instead of eating it all with a spoon! It was really, really tasty. The noodles were quite interesting to make. One of our hosts, Enza, has a housekeeper with amazingly strong arms, all from making homemade noodles, and I can certainly see why. First, the dough had to be kneaded for 10 minutes. Then, when it was time to stretch the noodles, I used my rolling pin because I don't have a pasta maker. It was quite the workout! The next morning, my upper arms AND forearms AND back AND chest AND shoulders were all noticeably sore! The finished lasagna was delicious, and the homemade noodles much more tender and full of flavor than the store-bought cardboard kind. I think I might try homemade pasta again, but with a pasta maker this time! For the complete recipe, please visit one of the hosts' blogs: Beans and Caviar, Melbourne Larder, or Io Da Grande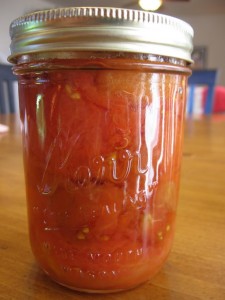 My very own tomatoes, from my very own yard, that I canned last September! I like to think they made the ragu extra tasty!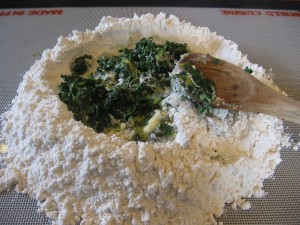 I call this one "Noodles: deconstructed"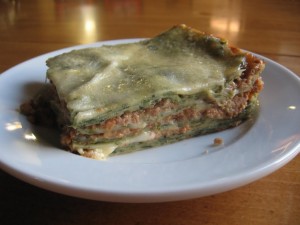 I could NOT get good pictures of this lasagna! Just know that despite its homely appearance, it tasted quite heavenly!