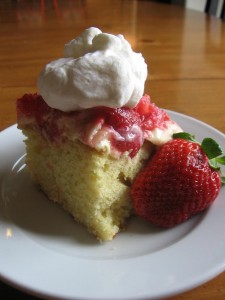 I'm lucky enough to have my mom visiting this week! Her favorite restaurant to eat at is Carraba's–which we don't have here. But, she makes a mean version of their delicious Dessert Rosa. While we made the shortcut version this time, it can easily be made from scratch. Buttery yellow cake, creamy vanilla custard, a trio of delicious fruit, and the ever-scrumptious whipped cream. I think I'll go have another piece right now!
Dessert Rosa
my mom's version of the Carraba's dessert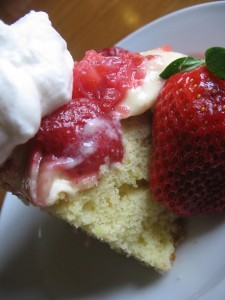 1 yellow cake (either made from scratch or from a mix)
1 large box instant vanilla pudding plus ingredients to make (or the equivalent of homemade vanilla pudding)
4 bananas, thinly sliced
2 8-oz cans crushed pineapple, drained
1 pint strawberries, sliced and sprinkled with a Tablespoon or so of sugar
sweetened whipped cream
Make your cake according to directions and allow to cool completely. Prepare vanilla pudding and spread evenly over the cooled cake. Top with sliced bananas, crushed pineapple, and strawberries in that order. Top individual servings with whipped cream. Easy peasy!