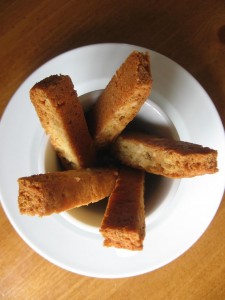 So, I joined another internet baking group. At least I had my husband make me promise I wouldn't sign up for any swaps this year, right?! So, this new group, Sweet Melissa Sundays, is baking a new recipe from The Sweet Melissa Baking Book each week. I got the book for Christmas, so I basically HAD to sign up, right??!!
This week's recipe, Honey Beescotti, was chosen by Lorelei of Mermaid Sweets. You can check out her blog for the full recipe. The highlight of these biscotti was the candied orange peel. It is apparently available at candy shops, but I signed up for this challenge exactly one day before going on vacation, so I didn't have time to hunt it down. Luckily, it is a cinch to make at home. Some recipes said it takes hours, but I followed Giada's recipe from the Food Network, and made them while doing the dishes. Literally, doing the dishes and making candied orange peel at the same time. And we couldn't stop eating them! I am lucky I had enough for the cookies.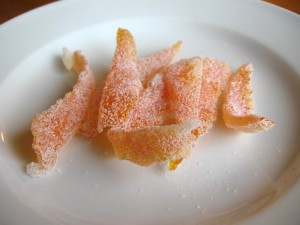 On to the cookies. I liked them, but I didn't love them, mainly because of the caraway seeds. I have nothing against caraway seeds; I just used half a jar in Irish Soda Bread for St. Patty's Day and loved it. But in this recipe, I found the flavor off-putting. I would bite into the cookie and think, "Wow, this is delicious." And then I would hit a caraway seed and go, "Huh?" So, I want to try the recipe again without the caraway seeds. Also, I really can't stand almond extract. There are a few things I'll allow it in, but not many. I didn't want to leave it out altogether, though, so instead of 1 1/2 teaspoons vanilla and 1 1/2 teaspoons almond extract, I added 2 1/2 teaspoons vanilla and only 1/2 teaspoon almond extract. And they were plenty almond extract-y, so I really can't imagine how they tasted with the full amount! And I don't know about anybody else, but I didn't have any chestnut honey lying around! So I used organic wildflower honey (very fancy)…from Albertson's. 🙂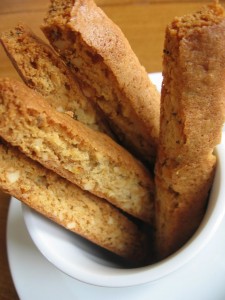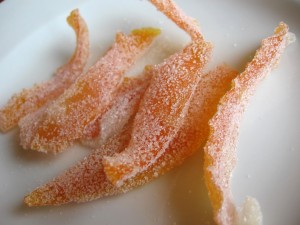 1 orange
3/4 cup sugar
1/2 cup water
Peel the orange. Giada says to use a vegetable peeler, but I used a sharp paring knife and cut thin slices. Try to get as little of the white peel as possible. Bring a small saucepan of water up to a boil and add the orange peels. Allow them to boil for 1 minute, then remove and rinse with cold water. Repeat the boiling and rinsing steps. Meanwhile, mix the sugar and 1/2 cup water in a small saucepan and bring to a boil. Add orange peels, reduce heat, and simmer until tender, about 15 minutes. Remove orange peels from sugar and place on parchment paper to dry. When peels are cool and only slightly sticky, roll them in granulated sugar.