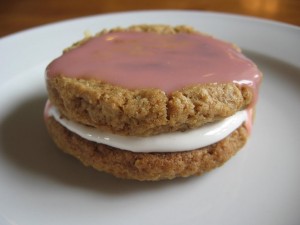 **Disclaimer: This recipe still needs tweaking. A lot of it! But, tonight is the pink moon, so I thought I'd post it anyway. Plus, they are really good even without any fixing. My husband practically blew a gasket when I told him he couldn't eat all the cookies last night!
Every Christmas for as long as I can remember, we have gotten a calendar for the upcoming year. This year, my husband and I got the Old Farmers' Almanac calendar, which is chock-full of all sorts of interesting information. For example, like many calendars, this one posts the phases of the moon each month (ie, full moons, new moons, etc.), but, unlike other calendars, it tells you the name of each full moon. Maybe I'm a stoop, but I never knew that each full moon has its own name. I was excited to see that this month's full moon is the "Pink Moon." I have no clue why that's its name, but I immediately thought of the great Nick Drake song and decided to make an event of it. In honor of the Pink Moon, we will be having homemade Pink Moon Pies for dessert tonight!
Pink Moon Pies
cookie:
2 sticks butter, softened
1 cup brown sugar, packed
1/2 cup granulated sugar
2 eggs
1 teaspoon vanilla
1 1/2 cups flour
1 teaspoon baking soda
1/2 teaspoon salt
1 1/2 cup quick oats
1 1/2 cups finely ground graham cracker crumbs
Preheat oven to 350 degrees. Cream butter and sugars. Add eggs and vanilla; beat well. In a separate bowl, combine remaining ingredients. Add dry ingredients to wet and stir until combined. Roll dough into golf ball-sized balls and place 2″ apart on an ungreased baking sheet. Bake for 10-12 minutes. Cool on baking sheet until stable, them remove to a wire rack to cool completely. Makes about 3 dozen.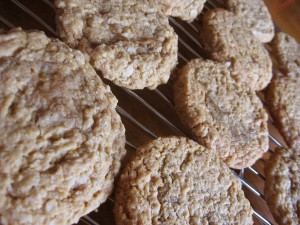 filling:
Combine 1 small jar marshmallow cream with 2 ounces softened, plain cream cheese. Beat until smooth.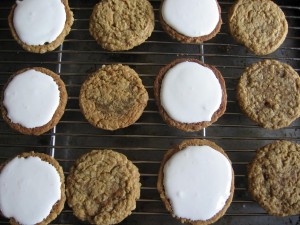 frosting:
4 oz white chocolate, chopped
2 Tablespoons heavy cream
red food coloring
Place chopped white chocolate and cream in a small, microwave-safe bowl. Microwave for 30 seconds; stir until smooth. If you can't get all of the white chocolate melted, microwave for another 15 seconds and stir again. Add 2 drops liquid red food coloring and stir to combine. Allow to cool to room temperature. If you want regular moon pies, just use semisweet chocolate instead of white chocolate and omit the food coloring.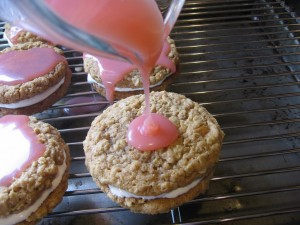 assembly:
Place half of the cooled cookies bottoms-up on a cooling rack placed over a baking sheet. Divide the marshmallow frosting among these cookies, spreading all the way to the edges. Place the remaining cookies on top of the filling to make cookie sandwiches. Gently pour the pink frosting over the cookie sandwiches one at a time, pouring just in the middle (it'll spread on its own), and pouring just enough frosting to cover the top of the cookies, but not so much that it starts to run down the sides. Allow the frosting to set up. This can be expedited by placing the cookies on a baking sheet and setting them in the fridge until the frosting is set.