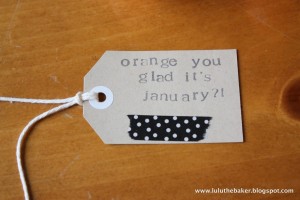 Earlier this month, I took a little New Year's treat to a few friends. It was a simple gift to throw together–just a bag of clementines–and was well-appreciated after all the sugary, heavy holiday baking. And you can use the same idea for absolutely any occasion. Orange you glad it's Monday? Orange you glad we're friends? Orange you glad you passed that big test yesterday?
For the tags, I cut rectangles out of kraft cardstock and trimmed the corners to make them tag-shaped, punched a hole, and added those so-handy hole reinforcers. Then I stamped an "Orange You Glad" message with one of my little alphabet stamp sets. The messages looked a little lonely, so I added some black and white polkadot deco tape for flair. I added some white kitchen twine, put about 8 clementines in a clear bag, and tied them shut. Voila!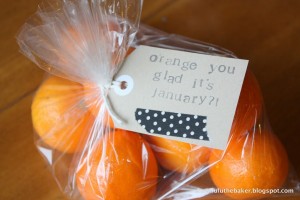 **Any resemblance to a Halloween treat is purely coincidental and should be ignored immediately!