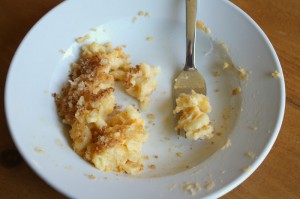 If you were to ask my 4 year-old what her favorite kind of mac & cheese is, she would quickly and happily reply, "Orange mac & cheese." I used to be just like her when I was little. I used to think mac & cheese from a box, made with some kind of day-glo, cheese-flavored powder, was as good as it got. Luckily, my taste in cheesy pasta dishes has matured somewhat, and I now prefer homemade mac & cheese to the artificially colored stuff you can buy at the store. Our favorite homemade mac & cheese is simple and straightforward in its flavors. It doesn't have any fancy spices or herbs muddying up the homey, comforting tastes of salty butter and sharp cheddar. And it's crowning glory, a toasted, buttery breadcrumb topping, is crispy and light and delicious. Even my 4 year-old agrees.
from an old issue of Yankee Magazine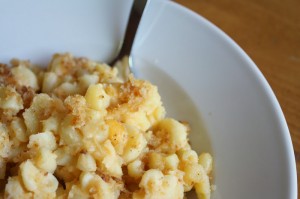 2 Tablespoons butter
1/2 cup panko bread crumbs
1 lb dried elbow macaroni
4 Tablespoons butter
4 Tablespoons flour
2 cups milk
1/4 teaspoon salt
1/4 teaspoon freshly ground black pepper
2 cups shredded sharp cheddar
Preheat oven to 350°F. In a small saucepan, melt 2 Tablespoons butter. Add bread crumbs and saute until a deep golden brown. Remove from heat and set aside to cool. Bring a large pot of salted water to boil and cook macaroni until al dente. While macaroni is cooking, melt 4 Tablespoons butter in a medium saucepan. Add flour, whisk, and cook for 1 minute. Add milk, salt, and pepper, and whisk until completely smooth. Add shredded cheddar and cook, stirring frequently, until all of the cheese is melted and the sauce is smooth. Drain macaroni, combine with cheese sauce, and pour into an 8″ square baking pan. Sprinkle buttery bread crumbs evenly over the top, and bake 20-25 minutes.