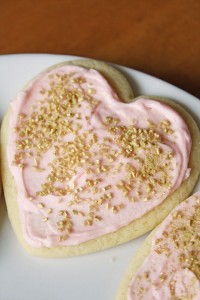 My mom makes the best sugar cookies ever. They bake up big and soft and pillowy and sweet, and no other sugar cookie I've ever eaten has tasted better. We baked up a big batch this weekend to give to friends and family for Valentine's Day, and it took all the love in my heart not to eat them all myself!
adapted from the Betty Crocker Cooky Book from 1963
Note:  My mom's name is not Ethel! That's the name of the cookie.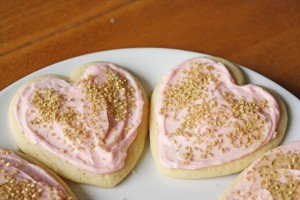 3/4 cup shortening
2 cups granulated sugar
2 teaspoons vanilla
4 eggs
5 cups flour
2 teaspoons salt
2 teaspoons baking powder
Beat butter and shortening with an electric mixer until well-combined. Add sugar and beat until light and fluffy. Add vanilla and eggs and beat, scraping down the side of the bowl as needed. In a medium bowl, combine flour, salt, and baking soda. With the mixer on low, gradually add the flour mixture until well-combined, or until your mixer starts to struggle (at which point you'll have to continue by hand). Cover bowl with plastic wrap and chill dough at least 1 hour. Preheat oven to 400°F. On a well-floured surface, roll chilled dough out to 1/8-1/4″ thick. Cut cookies out with a cookie cutter, place on ungreased baking sheets, and bake for 6-8 minutes. The cookies should be taken out when they begin to look dry but haven't started to brown at all. Allow to cool for a few minutes on the cookie sheet before removing to a cooling rack. Cool completely before frosting.
This is my family's favorite frosting, hands down. It is good on everything. Ok, maybe not sausages, but certainly everything else.
1 stick butter, softened but NOT MELTED!
1 teaspoon vanilla
1 lb powdered sugar (3 1/2 to 4 cups)
1/4 cup milk, cream, etc.
food coloring
In the bowl of an electric mixer, beat butter and vanilla. Add powdered sugar and beat until smooth. With the mixer on, slowly add milk until desired consistency is reached. Add food coloring a few drops at a time and beat until uniform.