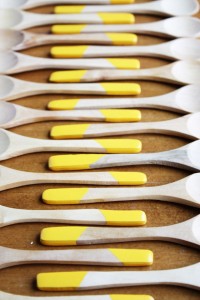 Maybe you didn't know this (even though I talked everyone's ear off about it for months!), but last week I got to attend Altitude Design Summit, the world's leading conference for design and lifestyle bloggers! I've wanted to go for the past few years, since it started, actually, and as I was reading recap after recap last year, I decided that come hell or high water, I was going to Alt 2013. And I made it happen!
About the same time I decided to go to Alt Summit, I got the idea for my business cards. Business cards at Alt Summit aren't your average, ordinary rectangles of cardstock–they are little works of art that people talk about and write blog posts about. I wanted mine to be something hip and kitchen-related and memorable, so I decided over a year ago to hand-dip little wooden condiment spoons in yellow paint and tie them onto my cards.
There are lots of good tutorials out there on dipping things in paint, and lots of different methods you can use. I had over 100 spoons to dip, so I needed something that was fairly quick and didn't take up too much space. After much experimentation, here's what I ended up with: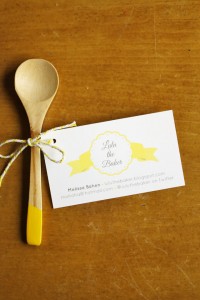 water
small disposable cup, waxed or styrofoam or something sturdy
craft sticks
empty egg cartons or something to rest the wet spoons on
1. Squirt a fair amount of paint into the disposable cup. It will likely be too thick right out of the bottle to be good for dipping. Add water a little at a time until it is a better consistency. How can you tell, you ask? I used lots of craft sticks (aka, popsicle sticks or tongue depressors) to test the consistency, and to stir the paint/water. I wanted it to coat smoothly without glooping up (yep, that's a new word), but I also wanted it to give a nice, opaque layer of paint. It took lots of testing, so don't give up.
2. When you finally get your paint the right consistency, pick up a spoon and dip the handle in the paint. Dip however you like. I did some spoons straight across and some at an angle. I like the angled ones best.
3. Let the excess paint drip back into the cup. You might even want to gently whack the spoon handle against the rim of the cup a few times to shake off those last few drips.
4. Set the spoon on the egg carton (or whatever you're using) to dry. Set it down so that it is completely horizontal and right-side up, and so the painted part is not touching anything.
5. Allow to dry like this for about 10 minutes, then flip over so that any drips that collected on the underside of the spoon as it was drying can flatten out. Allow to dry overnight before touching.
*The paint I used said it could air-cure for 21 days, so I dipped my spoons way back in December. Honestly, I think they're fine a lot sooner unless you plan on washing them