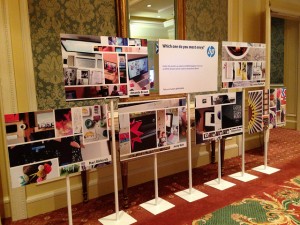 Meeting up with the people from HP last week at Alt Summit was lots of fun! Five other bloggers and I were invited to use our new HP desktops to create Experience Boards to be displayed in the HP lounge at the Grand America Hotel. It was so much fun to walk in and see my photos blown up and featured alongside such talented bloggers as Chelsea Costa of Lovely Indeed, Mari Richards of Small for Big, Brittni Mehlhoff of Paper & Stitch, Jenny Batt of Hank and Hunt, and Amanda Brown of Spruce.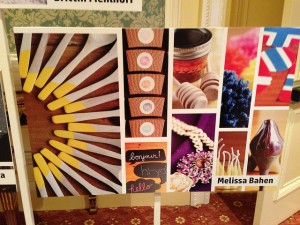 The offer to collaborate with HP on this project came at the beginning of January, right in the middle of all of my frantic Alt Summit preparations. I had business cards to finish, outfits to plan, gifts for my roommates to put together, a million projects to do for the Hello Social, and so many other things! So I decided to make the focus of my Experience Board all of this craziness! The final collage included photos of the spoons I hand-dipped to attach to each business card, the coffee cup sleeves, photo booth props, and miles of yarn pom pom garland I made for the party, a couple of key plum-colored pieces from my outfit for the Friday night Clue party, and a few other projects I had in the works. I love how colorful and full of texture my collage was!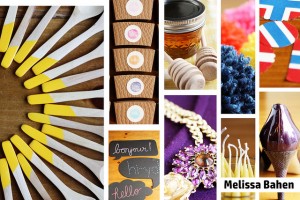 While I own an HP SpectreOne AiO now, I hadn't ever used a touchscreen computer before heading to Alt. Luckily, HP had their new HP Envy 23 TouchSmart AiO on display in the lounge, and it was, in a word, awesome! I loved using the Fresh Paint app to doodle right on the screen. I could seriously spend a lot of time just doing that! And there was a long line of bloggers behind me waiting to do the exact same thing. In the picture below, you can see the lovely and fabulous Amber from Damask Love creating a cute picture using the Fresh Paint app on the HP Envy 23 TouchSmart–pretty cool!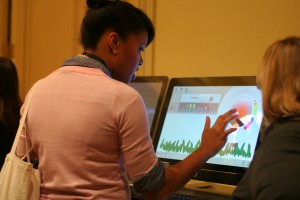 The HP lounge had tons of cool tech for us to check out, plus a fun photobooth, a smart office set-up, and a cocktail party! Thanks HP!
This post was sponsored by HP as part of a campaign with Alt Summit bloggers. I was compensated for my participation.