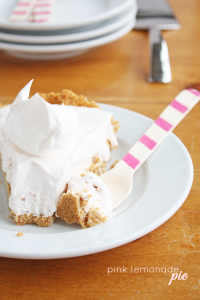 When I was little, one of the loveliest women I've ever known moved into our neighborhood. She had been friends my grandparents when they were all young, and became like another grandmother to us. She would invite us over for Christmas tea and give us a tour of her house, telling us the story of every Christmas decoration, every china doll with a sprig of holly in her hair and every smartly dressed teddy bear holding a tiny stack of gift boxes. She came to every bridal shower, baby shower, baptism, and reception, was a paragon of good manners and social propriety, and, of course, was always dressed to the nines. After I got married and moved away from home with my husband and new baby, she sent us beautiful cards on every holiday and birthday, always with a thoughtful note penned inside in her careful script. She was, as my husband put it, one classy lady.
This recipe for Pink Lemonade Pie came from her, and just like Auntie Margaret, it is sweet and chic and wonderful.
from my lovely Auntie Margaret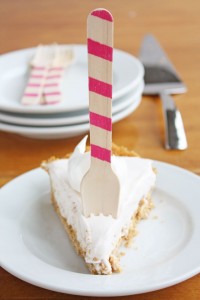 for the crust:
4 oz graham crackers (10 graham crackers should do it.)
3 Tablespoons sugar
5 Tablespoons melted butter
for the filling:
6 oz pink lemonade concentrate, thawed
1 14-oz can sweetened condensed milk
1 8-oz container Cool Whip, plus more for topping
To make the crust, preheat the oven to 350°F. Crush the graham crackers in a food processor, then add sugar and melted butter, and pulse to combine. Press the mixture firmly into the bottom and up the sides of a 9″ pie plate. Bake crust for 7-10 minutes until golden. Remove from oven and allow to cool completely.
While the crust cools, make the filling. In a medium bowl, whisk together pink lemonade and sweetened condensed milk until combined. Gently fold in Cool Whip. Spread filling evenly in completely cooled crust and freeze until solid. Cut and serve immediately, topped with more Cool Whip or whipped cream.
4th of July Variation: Use regular lemonade concentrate instead of pink lemonade concentrate, and top with fresh blueberries, strawberries, and raspberries!