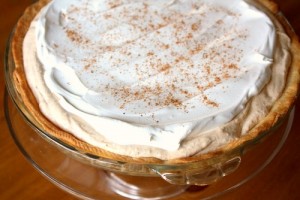 I come from a family of pumpkin pie tolerators. If nobody bothered to make a pumpkin pie this year for Thanksgiving, I'm pretty sure most of us would be perfectly happy without it, because we have something far better than pumpkin pie:
pumpkin chiffon pie
. The recipe comes from my Aunt Suzi, and I've loved it for as long as I can remember. Where pumpkin pie fails to impress me, pumpkin chiffon pie shines. Pumpkin pie is dense and gluey; pumpkin chiffon pie is light and creamy. Pumpkin pie has a heavy, overwhelming flavor; pumpkin chiffon pie has just the right amount of pumpkin flavor and just a hint of spice. Pumpkin pie needs to be smothered with whipped cream; pumpkin chiffon pie is
already
smothered in whipped cream. You'd better make two; they go quickly!
Pumpkin Chiffon Pie
dedicated to all of the pumpkin pie haters out there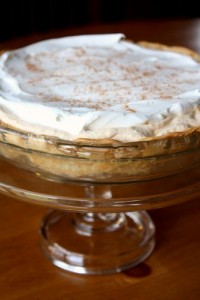 1 pie crust, baked according to directions for a filled pie
1 small package instant vanilla pudding
2/3 cup milk
1 cup canned pumpkin
1 9-oz container cool whip, plus more for topping
1/2 teaspoon cinnamon
1/2 teaspoon nutmeg, plus more for sprinkling
1/2 teaspoon ginger
Combine vanilla pudding and 2/3 cup milk and whisk until pudding is thickened. Fold in pumpkin, cool whip, and spices. Spoon mixture into cooled pie crust. Spread more cool whip on top and sprinkle with extra nutmeg. Chill until ready to serve.