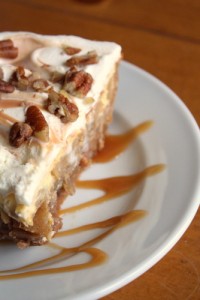 At times like Thanksgiving I am especially torn: I am a lover of both tradition and experimentation when it comes to food. I love having the same foods on the same days year after year, but I also like to try new recipes and discover new favorites. Our friends Dave and Marcelle hosted a dinner party last week and offered the perfect solution: Fantasy Thanksgiving. We were all encouraged to bring the mouth-watering foods we'd seen online and in holiday magazines that conflict with the foods we already love on Thanksgiving. We got to try new recipes for turkey and stuffing, nontraditional pies and potatoes, and exciting soups and salads.
I was in charge of dessert, and of course I couldn't just make one new dessert. So I tried 3. The first was pretty nasty. It was bad enough that I didn't serve it; I actually washed it all down the sink. The second was mostly tasty, but had a very strange, rubbery crust. Maybe I'll post it someday when I figure out how to fix the bad parts. The third was fantastic and more than made up for the other two failures! To quote one diner directly, it "strummed a chord on my heartstrings." Really not much of a surprise considering it had a cinnamon-scented graham cracker crust topped with homemade caramel sauce and pecans, a layer of tart apples slow-cooked in brown sugar, butter, and spices, and a decadent cheesecake topping covered with whipped cream and more caramel sauce.
Caramel Apple Cheesecake Pie
from Mimi Hodge, the winner of the Pie of Emeril's Eye Contest on Good Morning America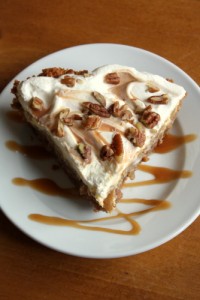 for the crust:
1 1/2 cups graham cracker crumbs
3 Tablespoons sugar
1/2 teaspoon cinnamon
1/3 cup butter, melted
3/4 cup caramel sauce
1 cup chopped pecans
for the apple filling:
5 granny smith apples, peeled, cored, and sliced thin
5 Tablespoons butter
1/2 cup brown sugar
1/4 teaspoon salt
1 teaspoon cinnamon
for the cheesecake topping:
8 oz cream cheese, softened
1/4 cup sugar
1 egg
1 teaspoon vanilla
1 Tablespoon lemon juice
to finish:
lightly sweetened whipped cream
caramel sauce
chopped pecans
Preheat the oven to 375 degrees F. In a medium bowl, combine graham cracker crumbs, sugar, cinnamon, and melted butter, and stir to combine. Press mixture firmly into the bottom and up the sides of a 10-inch pie plate. Bake for 6-8 minutes until crust is golden. Remove from oven and set aside to cool. When crust is completely cool, pour caramel sauce evenly over the bottom and sprinkle with chopped pecans. Set aside.
In a large skillet, melt 5 Tablespoons butter over medium-high heat. Using a wooden spoon, stir in cinnamon and brown sugar until combined. Add apples and cook until apples are tender and liquid has reduced, about 20 minutes. Let cool for 10 minutes before pouring into prepared crust.
Lower oven temperature to 350 degrees F. In a medium bowl, beat cream cheese and sugar until smooth, then add vanilla, egg, and lemon juice and beat again. Pour cheesecake topping over apple filling and bake pie for 30 minutes, until cheesecake is completely set. Remove from oven and let cool, then refrigerate until chilled. Let stand at room temperature for 30 minutes before serving. Serve topped with whipped cream, caramel sauce, and chopped pecans.