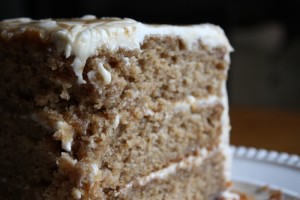 If there's anything I love more than baked goods full of apples and spices, it's baked goods that incorporate caramel sauce in some way. And since this cake combines apples, spices, and caramel sauce, I knew it would be amazing. Three layers of moist, delicious spice cake full of homemade applesauce, topped with fluffy buttercream frosting, and drizzled with a sinful homemade caramel sauce. For a big, tall cake it disappeared surprisingly quickly!
**You can see the other club: BAKED members' results HERE.
from Baked Explorations by Matt Lewis and Renato Poliafito
for the caramel sauce:
1 1/2 cups sugar
1/4 cup corn syrup
1/2 cup butter
1 1/2 cups heavy cream
for the cake:
4 cups flour
2 teaspoons baking soda
1 teaspoon baking powder
1 teaspoon salt
2 teaspoons cinnamon
1 teaspoon ground allspice
1 teaspoon ground cloves
1 1/2 cups unsalted butter
2 1/2 cups sugar
2 large eggs
4 cups homemade applesauce (or store-bought)
for the caramel buttercream:
1 1/2 cups sugar
1/3 cup flour
1 1/2 cups whole milk
1/3 cup heavy cream
1 1/2 cups unsalted butter
1 teaspoon vanilla
1/3 cup plus 2 Tablespoons caramel sauce
To make the caramel sauce, combine sugar and corn syrup with 1/2 cup water in a tall saucepan. Cook over medium-high heat, stirring, until sugar dissolves. Turn heat up, stop stirring, and bring mixture to a boil; cook until it reaches a "rich caramel color." I usually go for the color of honey. Remove from heat, and butter and cream, and stir until combined. If the mixture siezes up and gets clumpy, keep stirring and, if necessary, heat it on low until everything smoothes out.
To make the cake, preheat the oven to 325°F. Butter 3 8-inch round cake pans, line with parchment, and butter and flour the parchment. In a medium bowl, combine flour, baking soda, baking powder, salt, cinnamon, allspice, and cloves; set aside. With an electric mixture, cream the butter and sugar until lights and fluffy, about 3 minutes. Add the egg and beat until combined. Alternately add the dry ingredients and the applesauce, beginning and ending with the flour mixture. Scrape down the sides of the bowl and beat again. Divide the batter among the pans, smooth the tops, and bake for 40 to 45 minutes. Cool for 20 minutes before turning the cakes out onto a cooling rack. Let cool completely.
In a heavy-bottomed saucepan, whisk together sugar and flour. Add milk and cream and cook over medium heat, stirring occasionally, until mixture comes to a boil and thickens. Transfer to a large bowl and beat with an electric mixer on high until completely cool. Reduce mixer speed to low, add butter and vanilla, and mix thoroughly. Increase mixer speed to medium-high and beat until the frosting is light and fluffy. If it looks curdled, just keep beating it. I'm told it will come together eventually, although I got impatient and quit!! Add 1/2 cup of caramel sauce and mix until combined.
To put the cake together, put down the first cake layer and cover the top with a thin layer of frosting. Repeat for the second and third layers, then cover the sides with a thin layer of frosting as well. Refrigerate until frosting is firm. Then frost the whole cake–top and sides–with the remaining frosting. Drizzle extra caramel sauce on top!!