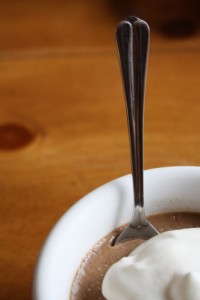 I'm a fan of chocolate pudding. That sounds a little ridiculous to say, because honestly who isn't a fan of chocolate pudding, right? But I love it in all of its many forms: instant store-bought, cook-n-serve store-bought, already made store-bought, the kind that's refrigerated, the kind that doesn't need to be refrigerated (I'm still not sure how that one works), homemade; I love 'em all. I think my love affair with chocolate pudding started when I was in elementary school in San Antonio. They served Jell-O Pudding Pops sometimes at lunch. God Bless You, Crestview Elementary. God Bless You!
I've said before that I think custard scares people. It sounds tricky and complicated and temperamental, and you think bad things of epic proportions will happen if you mess it up. But this chocolate pudding recipe is basically foolproof. It doesn't require a thermometer or whipping egg whites (something I loathe), and the results are silky smooth and deliciously chocolatey. I almost ate two huge servings the first time I made it. Like I said, I'm a fan!
Chocolate Pudding
from The Sweet Melissa Baking Book by Melissa Murphy
If you read the recipe before starting–which I highly recommend!–you'll notice two things: 1) the recipe takes time, but it's all inactive waiting time after the puddings have cooked. If you're going to make this, you just need to plan ahead. And 2) it seems to dirty several different pans, bowls, and containers. Again, if you plan ahead and reuse bowls you've already used in a previous step, you'll end up with way fewer dirty dishes. Always a plus!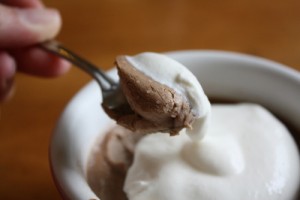 3 cups heavy cream
1/4 cup plus 1 Tablespoon sugar
2 1/4 oz sweetened chocolate (I used a mixture of dark and milk), chopped or just broken into pieces (why complicate things with a knife and a cutting board??)
5 large egg yolks
1/2 teaspoon salt
1/4 teaspoon vanilla
Preheat the oven to 300 degrees F. In a heavy saucepan, combine the cream and half of the sugar. Heat until tiny bubbles form on the edges of the pan and it is steaming. Do not boil it! Put the chocolate pieces in a bowl, pour enough hot cream mixture over the top to cover the chocolate, and let sit 5 minutes. Whisk until smooth, add the remaining cream, and whisk again. In a large bowl, whisk together the egg yolks, remaining sugar, salt, and vanilla. Slowly and steadily pour the hot chocolate mixture into the egg yolks, whisking constantly. Pour the pudding through a strainer and into a clean container that has a spout for pouring. Place six 6-oz oven-proof baking dishes in a big roasting pan. Put the roasting pan into the oven, divide the pudding among the baking dishes, and fill the roasting pan with hot water until it reaches halfway up the sides of the baking dishes. Cover the whole thing with foil and bake for 45-60 minutes. The puddings are done when they look firm and move as one big, slightly jiggly mass when shaken. Just like a cheesecake. Remove the roasting pan from the oven, take off the foil, and let the puddings cool to room temperature. Remove the individual puddings from the water bath, cover with plastic wrap, and refrigerate until cool and ready to serve.