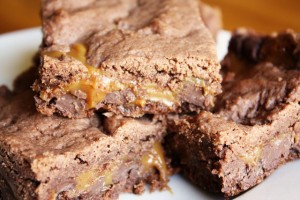 We're still trying to recover from the holidays in our household. We've done tons of cooking, but not a lot of blogging. So here's a classic recipe from a few years ago with a brand new–and much improved–photo: Caramel Brownies. A gooey layer of buttery caramel sandwiched between two delicious layers of chocolate brownie. These are just about as good–not to mention as easy–as it gets!

from my friend Des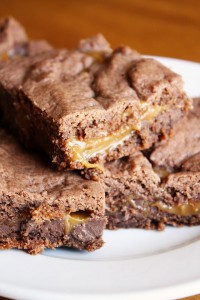 50 Kraft caramels, unwrapped
1 can evaporated milk
1 box german chocolate cake mix
3/4 cup butter, melted
2 Tablespoons flour
12 oz chocolate chips
Combine caramels and 1/3 cup evaporated milk in a small saucepan and heat over low until melted. Stir to combine. In a separate bowl, combine cake mix, butter, flour, and 1/3 cup evaporated milk. Spread half of the cake mixture into the bottom of a greased 9×13″ pan. Bake at 350 degrees for 6 minutes. As soon as the bottom layer comes out of the oven, sprinkle with chocolate chips and spread on caramel. Top with remaining cake mixture, and bake for another 15-18 minutes. Cool completely before serving.