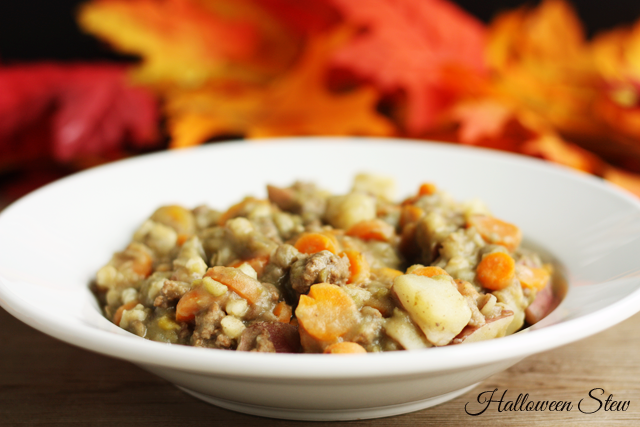 My family is one that believes strongly in tradition, and a good number of our traditions revolve around food. For every Halloween of my entire life, for example, including years in college and as a newly wed, I've eaten Halloween Stew for dinner. It's been a family tradition for longer than I've been alive, beginning when my mom was little. My Nana made it for her children before sending them out to trick-or-treat, and in turn, my mom made it for us. And now that I have a family of my own, I make it for them. It's the perfect thing to eat before heading out into a cool, blustery Halloween evening: wholesome and hearty, full of beef and barley and vegetables. I look forward to Halloween, not because of the candy, but because of the stew!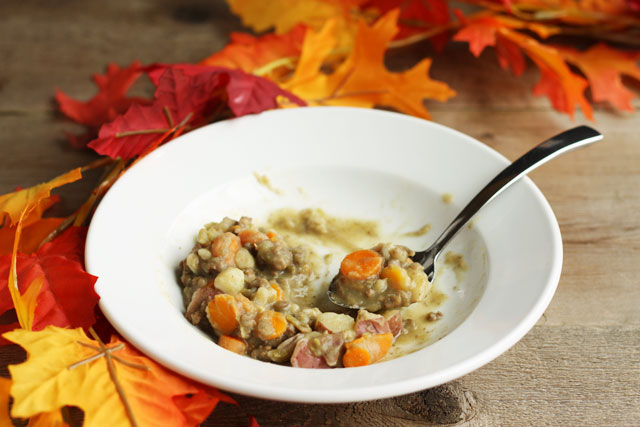 Halloween Stew
A long-time family tradition!
Ingredients
heaping ⅔ cup split peas
⅔ cup lentils
5 Tablespoons pearl barley
1½ cups chopped onions
lots of water
1½ lbs ground beef
2 teaspoons brown gravy mix
5-6 cups sliced carrots
5-6 cups diced red potatoes
salt and pepper
Instructions
Rinse and pick over the split peas and lentils, removing any rocks (it happens!). Put the split peas, lentils, barley, onion, and 6 cups of water in a large pot and boil until legumes are tender, about 30 minutes. Meanwhile, in a skillet, brown and drain ground beef. Add brown gravy mix to the ground beef and stir until meat is coated. Add beef, carrots, red potatoes, and 4 more cups water to the legumes. Simmer until vegetables are tender and stew has thickened, another 30 minutes. Season with salt and pepper to taste. Makes fantastic leftovers.