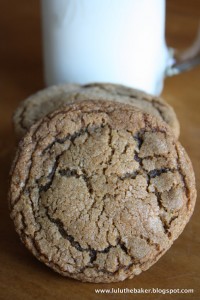 Molasses Crinkles are my family's #1 favorite cookie. My mom made them often when I was growing up, and those of us who are in charge of our own households now make them throughout the year, and probably weekly during the holiday season. When an early-Spring snowstorm closed schools and offices in our town earlier this week, we jumped at the opportunity to make our favorite winter-weather cookie. The molasses and brown sugar make them mellow and sweet, and the combination of cinnamon, ginger, and cloves gives them a pleasant warmth without the harsh spiciness that so often plagues gingersnaps. Best of all, they are soft and chewy, and the perfect accompaniment to snowman-building and hot cocoa-drinking!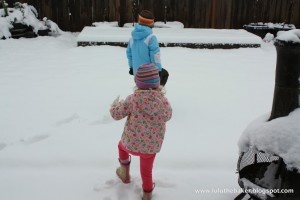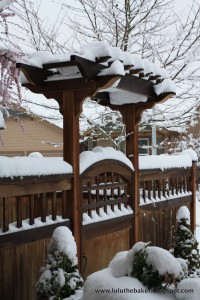 from the Betty Crocker Cooky Book
The original recipe calls for 12 Tablespoons shortening, which is what I've always used. However, when I made them this week, I only had 10 Tablespoons shortening, so I added 2 Tablespoons butter…and they were magnificent! I think I might make them that way from now on!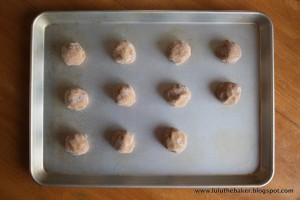 12 Tablespoons vegetable shortening (or 10 T shortening and 2 T butter)
1 cup packed brown sugar
1 egg
1/4 cup molasses
2 1/4 cups flour
2 teaspoons baking soda
1/4 teaspoon salt
1/2 teaspoon cloves
1 teaspoon ginger
1 teaspoon cinnamon
granulated sugar for rolling
Beat shortening (and butter, if using), brown sugar, egg, and molasses until light and fluffy. Combine dry ingredients in a separate bowl. Mix dry ingredients into wet ingredients. Cover dough and chill for at least 30 minutes. Preheat oven to 375 degrees. Roll dough into 1 1/2″ balls (Who measures the diameter of their cookie dough balls? Not me! I use my slightly smallish but mostly average-sized ice cream scoop). Roll balls in granulated sugar and place on greased baking sheet. Get your fingers wet with water and lightly touch the top of each cookie. Bake for 10 minutes. Remove and cool. Makes 1 1/2 to 2 dozen.