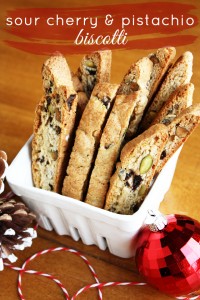 I've said before that I am a chewy cookie girl, but there's just something about biscotti that I love. I don't know if it's the extremely tantalizing crunch, or the extremely alluring sweetness, or, in this case, the extremely addictive bits of tart, tangy sour cherry. They have an irresistible siren song, and I love them.
These cookies are not only sweet, they're kind-hearted and generous too! I made them as part of the Great Food Blogger Cookie Swap to support Cookies for Kids' Cancer. Lots and lots of amazing food bloggers participated, swapping yummy cookies, and donating to a great cause. If you'd like to be on the email list so you can sign up next year, you can click HERE, and check out the links below to see all of the cookies these creative food bloggers made!
Great Food Blogger Cookie Swap Recipe Round-Up,
Part 1
Great Food Blogger Cookie Swap Recipe Round-Up,
Part 2
Sour Cherry & Pistachio Biscotti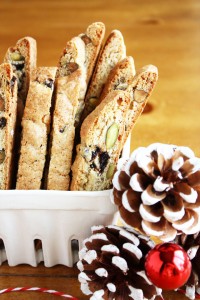 1/2 cup dried sour cherries (a heaping 1/2 cup is good, if you ask me!)
1/2 cup orange juice
4 Tablespoons butter, at room temperature
1 cup sugar
zest of 1 lemon
1/4 teaspoon salt
2 eggs
2 1/2 teaspoons vanilla
1/2 teaspoon almond extract
1 3/4 cups flour
1 teaspoon baking powder
1/2 cup shelled pistachios, chopped
Combine cherries and OJ in a small saucepan, and bring to a simmer. Cover, remove from heat, and let sit. In the bowl of a stand mixer, beat butter, sugar, zest, and salt until fluffy. Add eggs 1 at a time, beating to incorporate, and beat in extracts. Combine flour and baking powder in a small bowl, and add dry ingredients to the butter mixture, mixing well. Drain the cherries and gently fold them and the pistachios into the cookie dough. Spread the dough on a cookie sheet covered with parchment paper, and refrigerate 1 hour. When dough is thoroughly chilled, divide dough in half and roll each half into a 14-inch cylinder on a floured work surface. Preheat the oven to 350°F and line a fresh cookie sheet with a clean sheet of parchment paper. Place the 2 chunks of dough on the cookie sheet and bake them for 30 minutes. Remove cookies from oven and turn the temperature down to 275°F.
When the cookies are cool enough to handle, use a sharp knife to cut each log into 18 slices at a 45° angle. Transfer the cookies to a new parchment-lined cookie sheet, bottom-side down, and bake them at 275°F for 1 hour. Remove to a wire rack to cool completely.