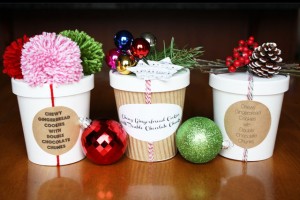 I have such a treat for you guys today–projects and recipes, all rolled into one merry post! One of my very favorite parts of Christmas has always been delivering homemade holiday treats to friends and neighbors. When I was growing up, I loved when my mom would help us make plates of snickerdoodles, molasses crinkles, peanut blossoms, sugar cookies, and russian tea cakes to give away. And now that I have kids of my own, I love thinking up fun Christmas treats to share with school teachers, carpool buddies, and friends from down the street.
When it comes to giving delicious gifts, I think cute packaging is just as important as a good recipe! I've teamed up with Garnish–an online retailer that offers adorable food packaging–to show you some easy and fun ways to take this year's neighbor gifts from drab to fab! Why settle for paper plates and plastic wrap from the grocery store when Garnish can send you wooden berry baskets, cardboard bakery boxes, and striped twine?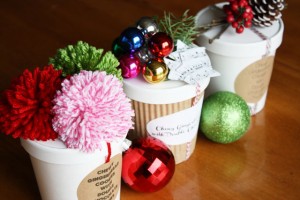 Last year, we decided to give Chocolate Chip Cookie Dough to our neighbors and friends, and it was probably the most popular Christmas gift we've ever given! I thought I'd take that popular gift one step further and show you three super cute, super easy ways to dress up Garnish's paper bowls and lids, and a drool-worthy cookie dough recipe that would make a perfect holiday gift!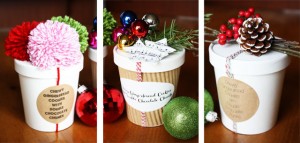 First up is the yarn pom pom. If you've never made yarn pom poms before, they are super easy and super addicting! You can find directions on how to make them on one of my favorite blogs, Creature Comforts. I teamed these bright, happy pom poms up with a White Paper Bowl and Lid and a Round Kraft Label from Garnish.
The second idea reminds me of a classic Christmas tree! I started with a few of my favorite Garnish supplies: a 16-oz Kraft Ripple Paper Bowl and Lid, a White Oval Label, and a length of Red and White Bakery Twine. Once the cookie dough was packed, the twine wrapped, and the label attached to the front, I hot glued a few sprigs of pine, a cluster of old-fashioned glass ornaments, and some stars punched from decorative paper to the top of the lid.
Last, but not least (and, actually, my favorite!), we have a nature-inspired design. I used Garnish's White Paper Bowl and Lid and Round Kraft Label, as well as a trio of bakery twine offerings: Red and White, Green and White, and Brown and White. To the top, I attached a small bundle of twigs from the apple tree in my backyard, and a pine cone and cluster of red berries from a $1 holiday decor pick from the craft store.
All of these packages are adorable, not to mention filled with the most amazing cookie dough that combines warm spices and sweet flecks of chocolate! Keep scrolling or click "Read More" for the recipe for Chewy Gingerbread Cookies with Double Chocolate Chunks.
Chewy Gingerbread Cookies with Double Chocolate Chunks
makes about 5 dozen cookies
1 recipe will be enough to fill 5 pint containers from Garnish; each pint of dough should make about 1 dozen cookies.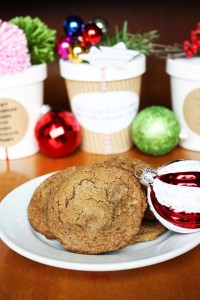 3 sticks butter, softened
2 cups packed brown sugar
2 eggs
1/2 cup molasses
4 1/2 cups flour
4 teaspoons baking soda
1/2 teaspoon salt
1 teaspoon cloves
2 teaspoons ginger
2 teaspoons cinnamon
6 oz finely chopped semisweet chocolate
6 oz finely chopped milk chocolate
granulated sugar for rolling
In the bowl of a stand mixer, beat butter, brown sugar, eggs, and molasses until fluffy. In a large bowl, combine flour, baking soda, salt, cloves, ginger, and cinnamon. Add dry ingredients to the mixer and beat just until combined. Stir in chocolate chunks by hand. Cover and refrigerate 30 minutes. Preheat oven to 375°F. Scoop dough and roll into 1 1/2″ balls. Roll each ball in granulated sugar, and place on a greased cookie sheet. Bake cookies for 10 minutes. Remove from the oven and cool.
Here are some tips if you plan on giving pints of Chewy Gingerbread Cookie Dough with Double Chocolate Chunks as gifts:
You can pack the cookie dough in pints immediately after stirring in the chocolate chunks.
Refrigerate the cookie dough pints until you are ready to deliver them.
Attach baking directions to the pints, print up direction stickers for the back, or include them in a Christmas card. Start with "Preheat…." above.
If you are giving the cookie dough as gifts, you don't need any granulated sugar. The people to whom you'll be giving the cookie dough will need some, but I'm pretty sure they can come up with that on their own!
Many thanks to Garnish for sponsoring this post! I was beyond excited that they said yes to my idea, and I think we make a great team. Garnish provided all of their products to me at no cost, in addition to financial compensation for this post.