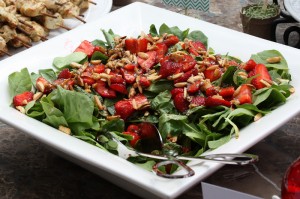 When I threw the strawberry baby shower for my friend Annie last month, this delicious salad was the star of the show! I wasn't sure how many people were coming to the shower (RSVP's were sketchy), so I bought tons and tons of food. There were lots of tasty leftovers, but every last bite of spinach salad got eaten. Every tender leaf of spinach, every crunchy, sugared almond, every sweet strawberry slice…gone!
Spinach Salad with Strawberries
from my friend Tannya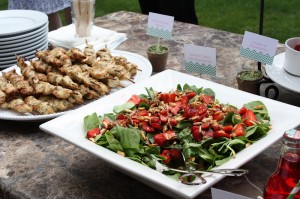 for the dressing:
1/2 cup sugar
1/2 cup olive oil
1/4 cup raspberry vinegar
1 teaspoon Worcestershire sauce
1/2 teaspoon finely chopped onion or shallot
1/8 cup poppy seeds
1/4 cup sesame seeds
1 Tablespoon paprika
for the candied almonds:
1 cup slivered almonds
2 Tablespoons sugar
for the salad:
raspberry dressing
candied almonds
baby spinach
strawberries, sliced
avocados, diced
sugar snap peas, optional
To make the dressing, combine all ingredients in a medium bowl and whisk until combined. Chill until ready to serve. Makes approx. 1 1/2 cups dressing.
To make the candied almonds, combine slivered almonds and sugar in a small skillet, and cook over medium heat, stirring often, until sugar is melted and almonds are coated. Cool completely, then break into small chunks (and try really hard not to eat them all before you even get to the salad).
To assemble the salad, put baby spinach in a bowl, and top with candied almonds, sliced strawberries, diced avocado, and sugar snap peas (if using). Pour dressing over salad, toss, and serve immediately.