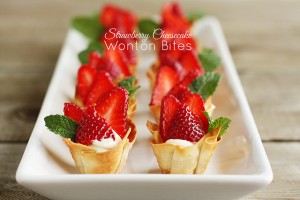 I don't think I've ever been happier to have Spring just around the corner than I am this year! This Winter has been a doozy! I'm ready to be done with coats and rain boots and gloom. I'm ready to drink in the flowers and sunshine and warm weather. To celebrate the impending arrival of Spring, I put together a cute inspiration board for a lovely, strawberry-inspired Spring soiree on Minted's beautiful blog,
Julep
, and created these delicious, party-perfect Strawberry Cheesecake Wonton Bites.
Visit Julep for the full recipe
, and to see what cute party details go with it!