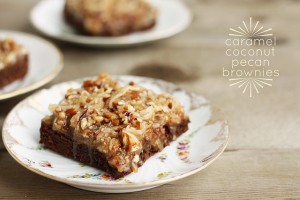 It's time for another 3-ingredient challenge in the
Melanie Makes/Lulu Bakes
monthly recipe series I'm participating in with Melanie Bauer from
Melanie Makes
! I really look forward to these challenges, and feel like every recipe so far has been a total winner. This month, Melanie chose our three ingredients: chocolate, coconut, and caramel. You really can't go wrong with a combination like that, but I actually had a really hard time figuring out what I wanted to make. Pretty much every recipe I thought of was kind of boring, like, "Been there, done that." And then it occurred to me that I didn't need to reinvent the wheel with this. I could just take something that's already delicious, like a brownie, and make it a little special. Because who doesn't love a dressed-up brownie?!
I started with my favorite from-scratch brownie recipe, and topped it with homemade caramel, sweet coconut flakes, and crunchy pecans. The brownie layer is dense and fudgy, and the topping is chewy and sweet, and sticks to your teeth in the best possible way. Folks, I think we have another winner!
Be sure to stop by Melanie Makes today to see what amazing treat Melanie came up with using our three ingredients, and read on for the Caramel Coconut Pecan Brownie recipe!

Caramel Coconut Pecan Brownies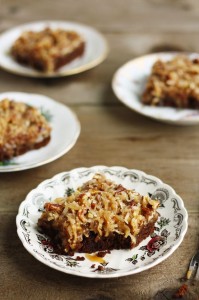 for the brownie layer:
1/2 cup butter
3 oz unsweetened chocolate, chopped
1 cup sugar
2 eggs
1 teaspoon vanilla
1/2 teaspoon baking powder
1/4 teaspoon salt
2/3 cup flour
for the caramel coconut pecan topping:
3/4 cup sugar
1/3 cup light corn syrup
3 Tablespoons water
a pinch of salt
1/3 cup cream
1 teaspoon vanilla
3/4 cup pecans
3/4 cup sweetened flaked coconut
To make the brownies, begin by preheating the oven to 350°F. Line an 8″-square baking pan with foil by tearing off two long sheets of foil, and laying one up-and-down and one side-to-side across the pan. Make sure extra foil is hanging out of the pan to make it easy to lift the brownies out after they cool. Spray the foil-lined pan generously with nonstick cooking spray. Melt the butter and chocolate together either on the stovetop or in the microwave. Beat sugar and eggs together in a medium bowl, then add vanilla, baking powder, salt, and chocolate mixture, and stir to combine. Add flour and stir just until the flour is all mixed in. Pour the batter into the prepared pan and bake for 22 minutes, until a toothpick inserted in the center of the brownies comes out mostly clean. Set the brownies aside to cool.
While the brownies are cooling, make the topping. Combine sugar, corn syrup, water, and salt in a small saucepan with high sides. Heat over medium, stirring, until sugar is dissolved and mixture comes to a boil. Allow to boil without stirring until the mixture turns a golden, honey color. Remove from heat and immediately add cream. After the mixture stops sputtering, add the vanilla and whisk until smooth. If the caramel has seized, just keep stirring it, and heat it again gently if necessary, and it will smooth out. Stir in pecans and coconut, and spread topping evenly over brownies. Allow everything to cool completely. If you're impatient, stick the pan in the fridge to cool them more quickly. When the brownies are cool, lift the brownies out of the pan using the foil lining. Cut into 12 equal pieces, and serve with tall glasses of cold milk.