My mom and I got to split dessert duty for Easter dinner. She decided to go the chocolate route with chocolate chess pie, so I tried to think of something light and fruity that would be a nice contrast. The last time I had Strawberry Cream Tunnel Cake was ages ago, sometime in my childhood, but its been on my mind a lot lately for some reason, and Sunday was the perfect time to try it out. And it couldn't have been a more perfect springtime dessert! The angel food cake is light and sweet, the strawberries are fresh and fruity, and the creamy filling is bright and tangy; it is kind of like strawberry shortcake, only inside-out! And in addition to being lovely, it is super easy to make.
Strawberry Cream Tunnel Cake
from Cheryl Poulsen, who taught my Sunday school class when I was growing up, and who is a fantastic cook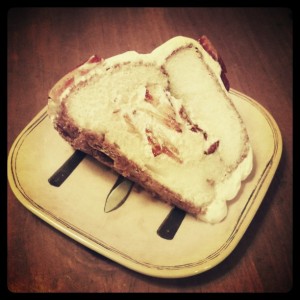 1 cup whipping cream
1 can sweetened condensed milk
1/3 cup lemon juice
1 teaspoon almond extract
1 angel food cake
2 pints fresh strawberries, sliced
In a medium bowl, whip cream until stiff peaks form. In another medium bowl, combine sweetened condensed milk, lemon juice, and almond extract until smooth. Fold in whipping cream. Chill mixture for 10 minutes. Meanwhile, flip the angle food cake so the narrower side is up. Using a serrated knife, gently cut off the top 1″ of the cake and set aside. Using your fingers, scoop out the insides of the cake; reserve cake chunks. Stay about 1″ from either edge, and be careful not to dig too far down. Combine 1 1/2 cups whipped cream mixture with half of the strawberries and half of the cake chunks. Spoon mixture into the hollowed out angel food cake and replace top. Cover top and sides with remaining whipped cream mixture and immediately put in freezer. Freeze cake for 2 hours. Right before serving, garnish with remaining strawberries.