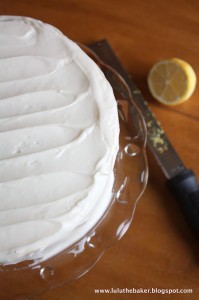 When I think of Easter desserts, I always think citrus, and more specifically lemon. I'm pretty sure if we took a poll, most people would think the same thing: lemon desserts are perfect for Easter. Maybe it has something to do with freshness and sunshine. In the past few years, our Easter desserts have included Triple Lemon Cheesecake, Lemon-Filled Coconut Cake, and a copycat version of Marie Callender's Lemon Cream Cheese Pie, which is my husband's favorite. This year, I jumped the gun just a tad and made this Lemonade Cake to get us all in the Easter spirit. It was sweet and tangy and moist, and the lemonade cream cheese frosting was out of this world! The only problem is we ate it all rather quickly, and now we have nothing for dessert on Sunday!
adapted from Cooking Light magazine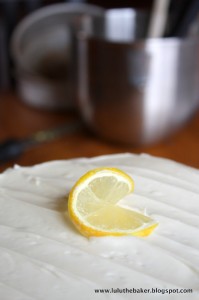 for the cake:
1 1/3 cups sugar
6 Tablespoons butter, softened
1 Tablespoon lemon zest
3 Tablespoons thawed lemonade concentrate
2 teaspoons vanilla
2 whole eggs
2 egg whites
2 cups flour
1 teaspoon baking powder
1/2 teaspoon salt
1/2 teaspoon baking soda
1 1/4 cups buttermilk
for the frosting:
3 Tablespoons butter, softened
8 oz cream cheese
1 teaspoon lemon extract
2 teaspoons thawed lemonade concentrate
1/2 teaspoon vanilla
3 1/2-4 cups powdered sugar
To make the cake, preheat oven to 350°F. Spray two 8″ round cake pans with nonstick cooking spray and set aside. In the bowl of an electric stand mixer, combine sugar, butter, zest, lemonade concentrate, and vanilla. Beat until well-mixed, 3-5 minutes. Add eggs one at a time, beating between each addition, and scraping down the sides of the bowl as necessary. In a small bowl, combine flour, baking powder, salt, and baking soda. With the mixer on low, beat 1/3 of the flour mixture into the egg mixture. Follow with 1/2 of the buttermilk. Repeat until all flour and all buttermilk are added and well-blended. Divide batter between prepared pans, and bake for 20-25 minutes, until a toothpick inserted in the center of each cake comes out clean. Allow cakes to cool in pans for 10 minutes, then turn them out onto a wire rack to cool completely.
To make the frosting, beat butter and cream cheese with a mixer until smooth. Add lemon extract, lemonade concentrate, and vanilla and beat until combined. With mixer running, add powdered sugar 1/2 cup at a time until it is the consistency you want.
Place one cake layer on a serving platter or cake plate. Top with 1/3 of the frosting, and spread the frosting evenly all the way to the edges. Place the next cake layer on top, flat-side up, and frost top and sides with remaining frosting. Store leftovers in the fridge, covered.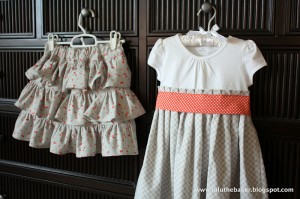 this year's Easter dresses