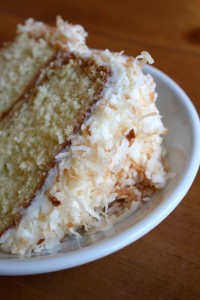 I was very excited to be in charge of Easter dinner this year. My husband's brother and his family were visiting my in-laws, who live about 40 minutes from us, so it probably would have made more sense for all of us to have dinner at my in-laws' house, but I called dibs and that was that. Coconut cake seems like the perfect dessert for Easter Sunday, and this one was particularly delicious. The lemon curd filling gave the cake a bright, sunny flavor, while the toasted coconut was nutty and sweet. It was a marriage of flavors that worked really well together. I cut the pieces a little small so there would be leftovers. Shhhhh! That's between you and me!
Lemon-Filled Coconut Cake
The recipe for the cake comes from Southern Cakes by Nancie McDermott. The recipe for the lemon curd comes from Sky High by Alisa Huntsman and Peter Wynn.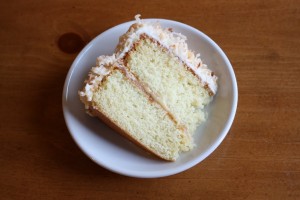 for the cake:
2 1/2 cups flour
2 1/2 teaspoons baking powder
1 1/4 teaspoons salt
5/8 teaspoon baking soda
1 1/2 cups sugar
1 teaspoon vanilla
1 cup milk
1 stick butter, softened
3 eggs
Preheat the oven to 350 degrees. Grease two 8″ round cake pans very well. In the bowl of a stand mixer, combine all dry ingredients. Blend briefly. Combine vanilla and milk. Add 1/4 of the milk mixture, plus the butter and eggs, to the flour mixture, and beat on medium until thick and smooth, about 2 minutes. Add remaining milk and beat only until smooth. Pour batter into prepared pans, and bake for 30 minutes, until a toothpick inserted in the middle of each comes out clean. Cool in pans for 5 minutes, then flip onto a cooling rack to cool completely.
for the lemon curd:
3 whole eggs
2 egg yolks
1/2 cup sugar
1/2 cup plus 1 Tablespoon freshly squeezed lemon juice
grated zest of 3 lemons
4 Tablespoons unsalted butter, at room temperature
Whisk together the whole eggs, yolks, sugar, lemon juice, and lemon zest together in a medium bowl. Transfer to a small non-reactive saucepan. Gently heat the mixture, whisking until it thickens enough to coat the back of a spoon. Make sure not to boil the mixture. Pour the mixture through a sieve into a heatproof bowl. Stir in the butter and cover the curd with plastic making sure the plastic touches the curd. This should prevent a skin from forming on the curd. Refrigerate until cold.
for the frosting:
3 cups sweetened, flaked coconut
1 brick cream cheese, softened
1 stick butter, softened
1 teaspoon vanilla extract
1 lb powdered sugar
Preheat the oven to 400 degrees. Spread the coconut out on a baking sheet, and place in oven. Bake, stirring occasionally, until coconut is lightly toasted. Remove pan from oven, and set aside to cool. In a large bowl, beat the cream cheese and butter until smooth. Add the vanilla and powdered sugar, and beat until smooth and fluffy.
putting it together:
When cakes are cool, place one cake top-down on a serving plate or cake stand. Spread a nice, thick layer of lemon curd on top, staying about 1/2″ from the edges. Place the other cake right-side up on top. Cover the top and sides with cream cheese frosting, then cover the entire cake with toasted coconut. Chill until ready to serve.
****
If you have kids or grandkids, or if you need a super chic baby shower gift, we're giving away this adorable wooden block set over at Max and Ellie. Click Here to enter!