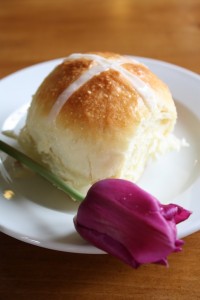 Hot Cross Buns are one of those things I've been meaning to make for years. Every Easter, I put Hot Cross Buns on the menu, and then something comes up, the Hot Cross Buns are forgotten, and another Easter goes by without them. And since they are specifically an Easter food, I have to wait a whole year for another chance at them. I finally got around to making them this year! And….they were pretty good but not amazing. But I think they could be great with a few modifications.
The recipe I chose to use is from the America's Test Kitchen Family Cookbook, one of my go-to cookbooks. It is the kind of cookbook where you can say, "I think I want to try making _____________." And they have a recipe for it. Anyway, the recipe for Hot Cross Buns begins with a basic sweet bread dough that can be made into breakfast buns, cinnamon rolls, sticky buns, etc. The dough contains sugar, melted butter, and buttermilk (as well as the usual bread staples of yeast, flour, etc.), and produces soft, rich, lightly sweetened buns. To make the plain rolls into Hot Cross Buns, you simply slash a cross in the top and brush an eggwash on before baking, then drizzle a simple icing on when they come out of the oven. The dough came together very easily, and the recipe had instructions for both immediate baking and an overnight rest in the fridge, which allows you to have warm breakfast buns in the morning without having to wake up at the crack of dawn.
My only problem with the recipe was the plainness of the finished product. Cinnamon rolls are filled with cinnamon and sugar and are topped with frosting. Sticky buns are filled with whatever deliciousness goes inside, and then they sit in a puddle of pecans and caramel sauce. Hot Cross Buns are filled with…..nothing. And topped with…..next to nothing. The bites of bun that were covered in frosting were delicious. But there just wasn't enough frosting for me. The problem is easily fixed by adding more frosting. When I make these again next year, I will probably make a thinner glaze to pour over the entire surface of the baked buns, then drizzle the thicker crosses on after the glaze sets. And I might add some citrus zest, because now that I think about it, that sounds kind of amazing. And I should point out that while I thought they were just OK, my 4-year-old thought they were the best thing ever. She polished off two of them and cried when I said she couldn't have a third!
Hot Cross Buns
from the America's Test Kitchen Family Cookbook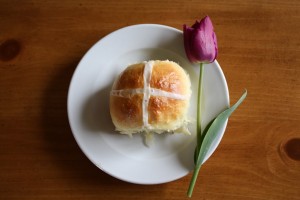 for the dough:
3/4 cup warm buttermilk (about 110 degrees)
6 Tablespoons unsalted butter, melted
3 eggs, beaten
4 cups flour
1/4 cup sugar
1 package (2 1/4 teaspoons) rapid-rise or instant yeast
1 1/4 teaspoons salt
for the eggwash and the frosting (these are the amounts called for in the recipe for the frosting; adjust as desired):
1 egg
1 Tablespoon water
3/4 cup powdered sugar
1 Tablespoon milk
1/2 teaspoon vanilla
Whisk buttermilk, butter, and eggs together and set aside. In the bowl of a stand mixer (fitted with a dough hook), combine remaining ingredients. With the mixer on low, add the buttermilk mixture and mix until the dough comes together, about 1 minute. Increase the speed to medium-low and knead the dough for about 10 minutes. At the end, the dough should stick to the bottom of the bowl but not the sides. If needed, you can add an extra 1/4 cup flour in small increments. Turn the dough out onto a clean, lightly floured surface, and knead until smooth, about 1 minute. Place dough in a greased bowl, cover, and let rise until doubled in size, about 2 to 2 1/2 hours. Turn the dough out onto a lightly floured surface and divide into 12 equal pieces. Roll each piece into a ball and place in a greased 9×13″ pan. Cover with a piece of greased plastic wrap. If you are making them immediately, let rise until doubled, about 1 to 1 1/2 hours. If you want to make them ahead of time, put the covered rolls in the fridge for up to 16 hours. Before baking, let them sit at warm room temperature until doubled, about 1 to 1 1/2 hours. Preheat oven to 350 degrees. Using a very sharp knife, gently cut an X in the top of each bun. Whisk the egg and water in a small bowl and brush the eggwash over the tops of the buns. Bake until golden, 25 to 30 minutes. Remove from oven and let cool 5 minutes. Meanwhile, whisk sugar, milk, and vanilla together. Drizzle the frosting into the X on the top of each bun.