I hadn't intended on being absent from this blog for a whole month, but you know how life goes, especially around the holidays! Family and fun trump blogging anyday.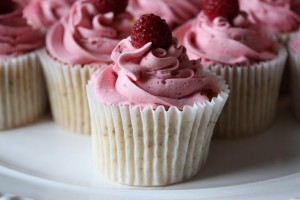 I'm a few days late in posting my Sweet Melissa Sundays blurb for the week, but I think the picture is pretty enough to make up for it. This week's recipe from The Sweet Melissa Baking Book by Melissa Murphy was chosen by Candy of Candy Girl: Hazelnut Raspberry Layer Cake, or in my case, Hazelnut Cupcakes with Raspberry Buttercream. Hazelnuts are one of those things I like without loving, so I wasn't jumping at this recipe, but I have a friend who happens to be crazy for hazelnuts and had a birthday last week, so I made cupcakes for her.
The cake batter threw me for a loop; it was basically the consistency of paste until having lots and lots of whipped eggs whites folded into it. I had my doubts that the cupcakes would turn out, but they were moist and flavorful. The fresh raspberries in the buttercream made it the most lovely shade of pink. My only complaint on the frosting is that the buttercream tasted way too buttery; the butter flavor made the delicious raspberry flavor hard to detect. I think the idea is a sound one, however, and I plan on trying fruit buttercreams in the future with a different base recipe.
Thank you Candy for choosing this truly lovely recipe; it was a big hit with the birthday girl! If you'd like to try this delicious combination, you can find the recipe HERE. And to see how the other Sweet Melissa Bakers fared, click HERE.