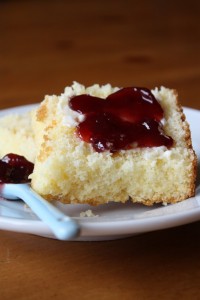 I have been a big cornbread fan for my entire life. Until a few years ago, I always just made the recipe on the side of the cornmeal box, and I was pretty happy with it. I occasionally tried something new, like a recipe from the Little House on the Prairie Cookbook or something with cheese, corn, and green chilies in it, but in general, I just floated along with my box recipe, blissfully unaware.
When we were dating and my husband first made this cornbread for me, I had a very snobby attitude toward it. Instead of being coarse, slightly on the dry side, and hearty like "real" cornbread, it was fluffy, tender, and sweet. I was used to choking down leftovers with a huge glass of milk so that I didn't asphyxiate on the dry, sandy crumbs, and I didn't think this moist, cakey cornbread was legit enough. But after a few months of eating it, I was hooked. Now I shudder at the thought of the cornbread I used to eat: dry, crumbly, corny.
Without further ado, my favorite cornbread recipe: sweet, tender, and lighter-than-air.
Golden Cornbread
makes one 9×13 pan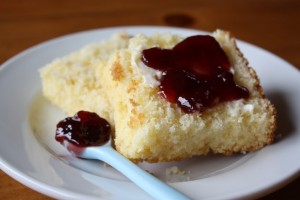 3 eggs, at room temperature
1 stick butter, softened
1/2 cup cornmeal
3 cups Bisquick (*if you are of the strictly-from-scratch camp, scroll down to the bottom of the post)
3/4 teaspoon baking powder
1 1/2 cups milk, at room temperature
1 cup sugar
Combine all ingredients in a big bowl, and mix until well blended. Pour batter into a greased 9×13″ pan and bake at 350 degrees. I swear the baking time always varies a lot. Start with 30 minutes and work your way up from there.
*If you don't want to use Bisquick, you can make a copycat version from scratch. This makes more than you will need for the cornbread, but the extras can be stored at room temperature:
4 cups flour
2 Tablespoons baking powder
2 teaspoons salt
3/4 cup shortening
3/4 cup nonfat powdered milk


Combine all ingredients, cutting shortening in with a fork or pastry cutter, until mixture resembles coarse meal. Store in an airtight container at room temperature.