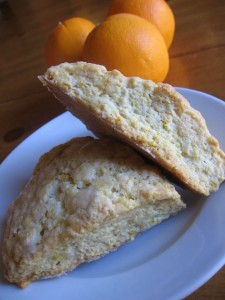 Let's get this Cake Slice business out of the way first. Since I wasn't the best Cake Slice Baker this summer, it was really important to me to end our twelve months baking from Sky High: Triple Layer Cakes with a strong effort. So, in spite of a very busy week, I made time to bake a Triple Chocolate Fudge Cake because I didn't want to blow off yet another month, and because the picture in the cookbook looked so darn pretty. Things, however, went wrong in a big, big way. After filling and crumb-coating the cake, I carefully lifted it into the fridge for its big chill. Sadly, the foot of the cake pedestal snagged on the edge of the fridge shelf and all three layers went flying into the fridge, which was littered with dry carrot leaves from an earlier project. After some crying and swearing, I picked off the crumbling greenery, shoved the layers back together, threw away the large chunk that had broken off the top, and decided to persevere. I frosted it, tried to make it look its best, and loaded it into the car. Despite going incredibly slowly and taking every turn at a probably-annoying-to-other-drivers crawl, the whole thing fell over again and wedged itself against the passenger-side door. I had to open the door very slowly while wiggling my hand and arm into the car so that I could catch the cake, pedestal, and dome before they shattered in the gutter! And it didn't even have the decency to fall on the side that was already missing a sizable chunk. Maybe I was hardened to it by the time I tried it, but I didn't think it tasted good and threw away most of my piece.
Next month, we start baking from an all new, not completely full of layer cakes book! Hooray! And if you want to join, I think the powers that be are accepting new recruits. The information is at the end of this post by Katie of Apple & Spice, where you can also find the recipe for the cake, which lots of people other than me liked a lot!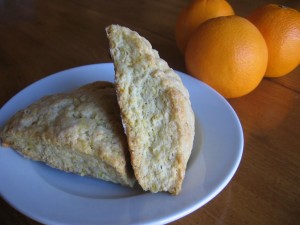 And now, for Sweet Melissa. Sweet, sweet Melissa. I can't begin to say how much I love this cookbook. If you haven't been persuaded to buy The Sweet Melissa Baking Book yet, you must have a heart–nay, a stomach–of stone! This week's recipe for Orange Scented Scones was chosen by Robin of Lady Craddock's Bakery. This recipe has made a scone-lover out of me! I usually find scones a little on the heavy side, but Melissa Murphy's recipe produces light, airy cakes that are pleasantly crisp on the outside and deliciously tender on the inside. As per the advice of our lovely hostess for the week, I doubled the amount of orange zest in the dough. I also made a glaze with powdered sugar and the juice from my zested orange, and poured that over the top of each scone after they had cooled for about 5 minutes. They were simply heavenly! And after the chocolate cake debacle, I think I deserved a little baked heaven!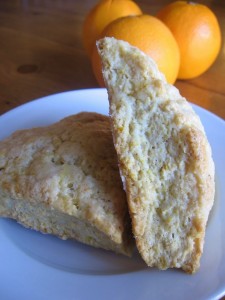 You can find the recipe for these delicious Orange Scented Scones here, at Robin's blog.