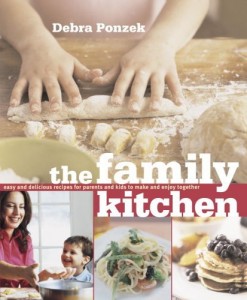 I checked this cookbook out of the library, spent a few evenings browsing it in bed before turning out the lights, and decided that I have to own it. What a fantastic cookbook!! Written by award-winning chef (and mom) Debra Ponzek, The Family Kitchen is chock full of beautiful photos and wholesome, made-from-scratch delights ranging from blueberry crumb muffins for breakfast to balsamic, rosemary, and lemon grilled chicken for dinner to turtle brownies for dessert. One of the things I like most about this cookbook is that it is a regular cookbook with food that adults will love and that kids can help prepare. Each recipe is written as a regular recipe with a little box in the margin that tells you what steps kids can do either with help or on their own. The cookbook also includes sections on safety, organization, and sanitation.
Good Things:
-This cookbook is a regular cookbook! It has lots of recipes (nearly 100), lovely pictures, and nice stories to go along with each item.
–The Family Kitchen isn't a cookbook for kids; it is a cookbook for families, and I really love that! The food is just regular food that grown-ups will like eating and kids will like helping to prepare.
-The food is delicious, and not in a "Wow, I'm surprised!" way.
Bad Things:
-This isn't a cookbook for young children to start making things on their own.
-All of the food looks lovely and appetizing, but it isn't your typical "kid-friendly" food. I wasn't sure whether to list that under bad things or good things! If you have picky eaters, sometimes you have to resort to pizza faces and fruit salad with colored marshmallows, OK!
-While it is a lovely cookbook, there is nothing visually to capture the fancy of a preschooler or young grade-schooler.
Overall: Like I said, I checked it out of the library, and am going to buy a copy as soon as it is due back. I think that is pretty high praise!
Individual Zucchini and Cheddar Frittatas
from The Family Kitchen by Debra Ponzek
These were delicious and incredibly easy to prepare. We were short 1 egg, so we just decreased the half-and-half by a smidge and they turned out fine. Really great reheated the next day too!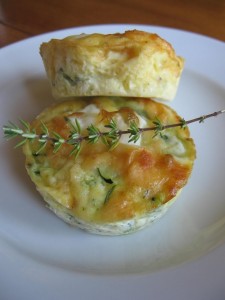 2 Tablespoons olive oil
1 1/2 medium zucchini, shredded on the large holes of a box grater
2 shallots, thinly sliced
3/4 teaspoon salt
freshly ground pepper
7 large eggs
2/3 cup half-and-half
1/2 cup shredded white cheddar cheese (we used a mixture of medium orange cheddar and mozzarella)
1/2 teaspoon chopped fresh thyme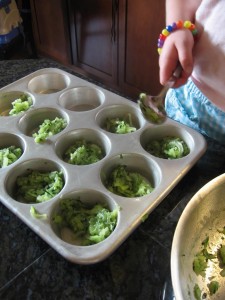 Preheat the oven to 375 degrees. Generously spray 12 cups of a muffin tin with cooking spray. In a medium saute pan, heat the oil over medium-high heat until just shimmering. Add the zucchini and shallots and saute for 3 to 4 minutes, or until wilted and soft. Pour off or drain any excess moisture. Season with 1/4 teaspoon of the salt and about 1/8 teaspoon pepper. In a large bowl, whisk together the eggs, half-and-half, cheddar cheese, thyme, and remaining 1/2 teaspoon salt. We did not add the cheese at this point. Season with a few grinds of pepper. Divide the zucchini mixture among the muffin cups. This is where we dealt with the cheese. We sprinkled the cheese on top of the zucchini in each cup. Top each cup with the egg mixture, dividing it equally among the cups. Bake for about 20 minutes, or until puffy, golden brown, and just set. Run a dull kitchen knife around the outside of each frittata and remove. Serve immediately.