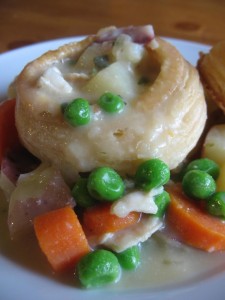 The September 2009 Daring Bakers' Challenge was hosted by Steph of A Whisk and a Spoon. She chose the French treat, Vols-au-Vent based on the Puff Pastry recipe by Michel Richard from the cookbook Baking With Julia by Dorie Greenspan.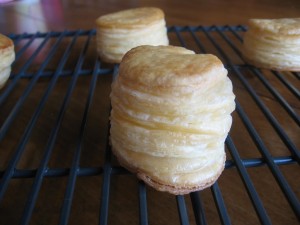 This month's Daring Bakers Challenge was so much fun. We had to make vols-au-vent, which are basically little puff pastry cylinders filled with sweet or savory deliciousness. The best part was that we had to make our own puff pastry! This was something I had never done before, and to be perfectly honest, something I hadn't even considered doing. Store-bought puff pastry is pretty darn good, and you cannot beat it for convenience. Thaw, unfold, use. But making my own puff pastry was a cinch! I kept expecting it to be hard at some point, but it really wasn't at all. For anyone who hasn't done this before, you just make a dough out of flour, salt, and water, beat a few sticks of butter into a flat square with your rolling pin, and wrap the butter up in the dough like a Christmas present. Then you roll out the dough/butter sandwich, fold it, and give it a quarter turn. Repeat this 5 more times with a lot of chilling time between sessions and voila! Puff pastry! To make vols-au-vent, you use a round biscuit cutter to cut out pairs of circles. One circle is the bottom of the cylinder, and the other gets its middle cut out and becomes the walls. This is the only part of the entire experience that gave me trouble. The bottoms are supposed to stay at least a little flat, while the walls rise up nice and tall, thus giving you something to fill. The complete opposite happened to me: the bottom of each cylinder rose about 3 inches while the walls stayed flat. But they tasted good, and they were just for us for dinner, so I didn't really care that they looked odd and didn't hold any filling. I topped mine with a creamy, herb-filled chicken pot pie filling. It was delicious, and I'm glad I have extra puff pastry in the freezer that can be pulled out and made into all sorts of buttery delights!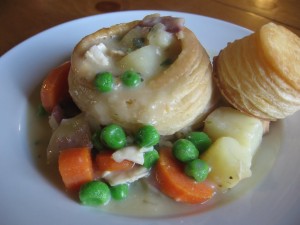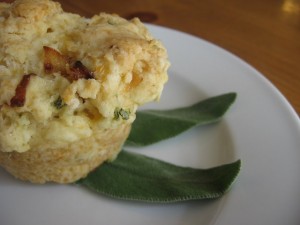 This week's recipe for Sweet Melissa Sundays was for Savory Muffins with Caramelized Onion, Sage, and Cheddar, which we had with Corn Risotto with Bacon and Basil (really good!). They had a really, really good flavor, but unfortunately, my muffins were really dry. Luckily, there are other variations on the savory muffin recipe, so I will get to try it again at some point and work out the kinks. Thanks to the wonderful Hanaa of Hanaa's Kitchen for choosing this week's recipe, which can be found on her blog.