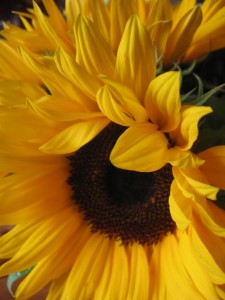 sunflowers from Me & Moore Farm in Eugene, OR
My husband and I were lucky enough to play host to our dinner club this month. We live in a part of the world that never ceases to amaze us with its bounty, so we chose to eat local for dinner club! Our original rule was that every last ingredient had to be found at least in our state (if not closer!), but we did end up having to cheat with a few hard-to-find ingredients. Not everyone stuck with the rules, but everyone had lots of fun. It was really interesting doing all of the research, contacting local farmers, and making what are usually convenience items from scratch. I highly recommend giving this a try where you live. It is a wonderful way to gain appreciation for local agriculture and gratefulness for the global ingredients we have easy access to these days. Without further ado, the menu and the recipes (with links to sources provided where applicable).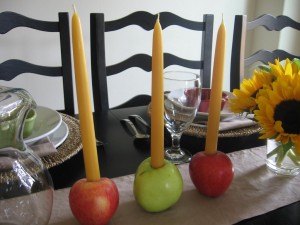 local apples holding beeswax candles from Beeswax Candle Works in Cottage Grove, OR, which uses wax from local bees
Roasted red pepper, eggplant, and feta spread with non-local crackers
A trio of local cheeses
Pears, grapes, and strawberries
Height-of-Summer Five Tomato Salad with Gorgonzola Toasts ( I don't even like gorgonzola, and I

love

these!)
Fresh Roasted Beets and Carrots
Individual Beef Pot Pies (scroll down for the recipe!)
Apple Pandowdy
Fresh Apple Cider that we pressed ourselves in our backyard (it was so much fun; highly recommended!)
Tiny gala apples covered in honey caramel (another great recipe located below)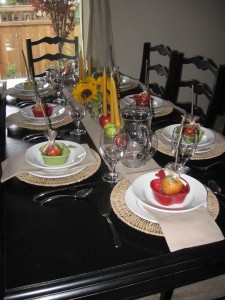 We were in charge of the main course and the beverage, and I threw together the caramel apples as a little party favor. One of the most interesting things about this project was making things from scratch that I usually buy at the grocery store without giving it a second thought, things like beef and chicken stock, tomato paste, and apple cider. I even attempted to find salt! We live in a coastal state, so you wouldn't think this would be a big problem, but apparently Hawaii and Maine are the only US states that do the salt thing. I did find some at the giftshop of a historical maritime museum, and I sent the nice lady on the phone a check and self-addressed, stamped envelope and waited patiently. When my hotly anticipated salt packets arrived, however, they had "Not for human consumption" stamped across the front. What else is someone going to use a packet of salt for?! Below, you can find the recipes for the pot pies and the caramel. Enjoy!
Individual Beef Pot Pies
adapted from a recipe in the Cooks Country cookbook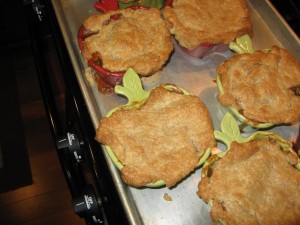 crust:
3 oz cream cheese, softened (from Nancy's in Springfield, OR)
8 Tablespoons butter, softened (from Umpqua Dairy in Roseburg, OR)
1 cup white, whole wheat flour (ground from wheat from Sunbow Farm in Corvallis, OR)
a pinch of salt, not local 🙁
Combine cream cheese and butter until smooth. Add flour and salt; mix until well-combined. Chill until you are ready to use it.
filling:
1 Tablespoon olive oil (from the Oregon Olive Mill at Red Ridge Farms in Dayton, OR)
2 lbs stew beef, trimmed and cut into 1-inch chunks (from Knee Deep Cattle Company in Coburg, OR)
1 large onion, minced (from my backyard)
2 large carrots, peeled and chopped (from Thistledown Farm in Junction City, OR)
4 cloves garlic, minced (Thistledown)
1 lb potatoes, peeled and cubed (from my backyard)
5 Tablespoons flour (see crust recipe)
1 3/4 cups chicken stock (made with all local ingredients except cloves and peppercorns)
1 3/4 cups beef stock (made with all local ingredients)
3/4 cup red wine (from Hinman Vineyards outside of Eugene, OR)
1 Tablespoon tomato paste (made from tomatoes from my backyard)
2 teaspoons minced fresh thyme (from my backyard)
1 cup frozen peas (from my backyard–this wiped out the last of our stash)
1 bay leaf (I'm pretty sure these were local, although I'm not positive)
Dry the beef thoroughly with paper towels, then season with salt and pepper. Heat the oil in a large, heavy-bottom pot or Dutch oven over medium-high heat. Working in small batches, brown the meat on all sides. Remove from pot and set aside. Reduce the heat to medium, and add the onions, carrots, and potatoes. Cook, stirring frequently, until the onion has browned lightly, 4 to 6 minutes. Add the garlic, and cook 1 minute more. Add the flour, and cook, stirring constantly, for another minute. Whisk in the wine, scraping up the browned bits from the bottom of the pot. Add stocks, tomato paste, thyme, and the bay leaf. Add the meat along with any juices that have accumulated. Bring to a simmer, partially cover, and reduce heat. Continue simmering until the stew is just a little thinner than you'd like, cover completely, and continue cooking until the meat is very tender. We got to this point about 2 hours after starting the whole recipe. Meanwhile, preheat oven to 400 degrees. Remove dough from fridge. If you are making individual pot pies, divide the dough up into the corresponding number of balls. Pat the dough out until it can fit over the top of your baking dish with a small amount of dough hanging over, about 1/4 inch all the way around. Remove stew from heat, add peas, and stir. Divide stew into individual baking dishes, top with crust, and bake for 20-25 minutes, or until filling is bubbly and crust is nicely browned. Allow to cool for about 10 minutes before serving. Don't worry; pot pies stay hot forever!
Honey Caramel
from the National Honey Board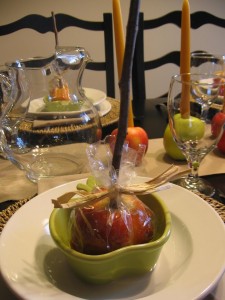 1 cup butter (from Umpqua Dairy in Roseburg, OR)
2 cups pure honey (from Bear Mountain Honey in Creswell, OR)
2 cups whipping cream (from Lochmead Dairy in Eugene, OR)
1 cup brown sugar (This is one where I partially cheated: White Satin sugar–which produces lots of store brands including Albertson's, Safeway, and WinCo here in Oregon, uses sugar beets from both Oregon and Idaho. I did my best!)
1 teaspoon vanilla extract (again, I cheated, but I used vanilla extract that I made myself from Tahitian vanilla beans and vodka)
Melt butter in a medium-sized heavy saucepan over medium-high heat. Add honey, cream, and brown sugar; mix well. Cook until mixture comes to a boil, stirring frequently. Continue boiling and stirring until a candy thermometer registers 250 degrees. Remove from heat and stir in vanilla. If you want to make caramel apples, let the caramel cool to room temperature before dipping, then refrigerate. If you want to make caramels, pour the hot caramel into a 9-inch square pan lined with plastic wrap; refrigerate before cutting.