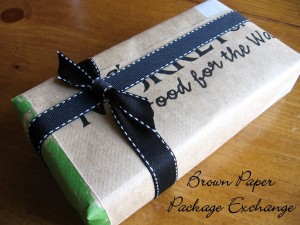 Dear friends,
I love getting packages in the mail. There is something so singularly exciting in taking a box from the postman's hands, a box with my very own name on the top, and delightedly opening it to see what wonderful treasures lie inside. I also get a rush of joy from giving gifts, from carefully choosing the perfect present, something my friend or family member will love, and wrapping it just so.
It is with excitement that I invite you to join me in The Brown Paper Package Exchange! It's just a little something to get us all ready for the holidays. A little food, a little fun! I would love for my foodie friends to participate in this fun, festive package swap with me. Click here for the details.
And yes, I am hosting it! We were sitting at dinner tonight eating BBQ take-out (is it bad for a food blogger to admit to eating take-out?) and I smiled and said, "I want to host a package exchange!" And The Brown Paper Package Exchange was born!
Hoping to hear from you all soon!
–Melissa