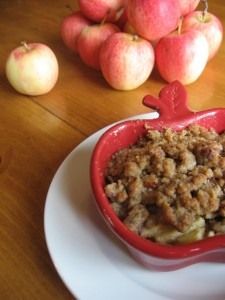 ***It seems that my apple ramekins are the hit of the week! I bought them in the middle of September at T.J. Maxx/Home Goods. They come in packs of 2 and are available in either red or apple green.***
I know that pumpkin is the quintessential October flavor, but I actually prefer apple no matter what season it is! This easy, delicious apple crumble tasted just like Autumn, and made the entire house smell warm and festive while it baked. I used a combination of Golden Delicious, Granny Smith, and Honey Crisp apples, which produced a delightfully tart filling. I followed the recipe exactly, only I cut it in half and baked it in four 8-oz ramekins. I decreased the baking time to 30 minutes, which ended up being perfect! A big thank you to Cristine of Cooking with Cristine for choosing this amazing recipe. You can find the entire recipe on her blog, which is a veritable treasure trove of delicious meal ideas. Have fun browsing!!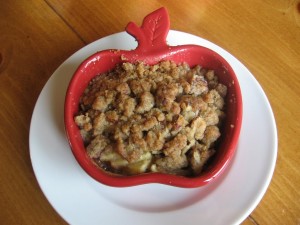 And if you're interested in joining the Brown Paper Package Exchange, scroll down!!